I have heard many parents talk about the terrible twos. I have heard many parents change it to the "terrific twos" because they did not want to label something that might turn out different for them that it did with pretty much the entire worlds population.
OK; so maybe I am exaggerating just a little bit, but seriously I almost get irritated with the whole thought that nothing that is going to happen to me or my child will be anything like the experience of anyone else. Why? Because I think that it breaks up the whole feeling of a wider community, a camaraderie if you will between anyone that has ever been a parent. Now don't get me wrong; I actually do think there are not as many "attachment parents" out there, per se, and there are plenty of things that people say will happen or have to happen in a child/parent relationship that frankly I think is a load. But there are some basic things that seem to be the glue that sticks parents together in a bond of common sympathy and one of those things are the terrible twos.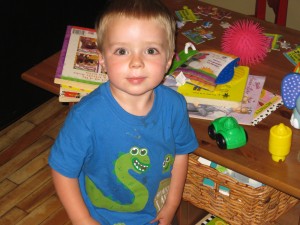 It was like a light switch was turned on in my son. He went from being fairly passive to throwing, hitting, shoving, kicking… pretty much over night. And that may seem dramatic but it is true! And the screaming! He has never been a terrible screamer but this. There have been many different levels of exhaustion that I have run in to as a parent but as my son has hit two it is not so much exhaustion as it is worn out. I feel worn. The thing about feeling worn is sleep doesn't really seem to help that much.  Thank God he is sleeping well at night now!
It isn't all bad. He is funny. More and more personality is coming through and I am being introduced and reintroduced to my son on a daily basis. We have fun together. I like taking him places. That is until the thrashing starts, or the screaming. Discipline happens so many times a day now it is crazy. It used to be that he had some form of discipline every few days but it is every day now, several times a day. It is forcing me to get really creative.
Want to share about your terrible twos?
Jasmine is a co-housing, home birthing, missions minded, community living mama with a passion for fierce writing. She blogs.