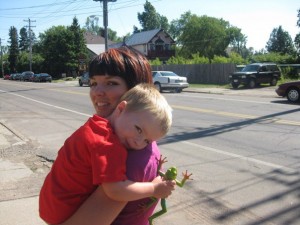 It seems like every few weeks I am completely surprised by my son. He is talking more and more and things are making sense now. Children are so blunt. Tonight at dinner he was sitting at his brand new kiddie table and accidentally knocked his bowl off the table. He looked so disappointed and said "Oh darn it!". We all cracked up; how could you not? The adult-sounding sentences coming out of a two year-old are just too much.
The other day I went to collect him from the great outdoors where he was playing with his younger cousin. My sister was watching the children "help" my brother in law with his building project. I asked my son if he was ready to come with me, nap time… he told me "No, I not sleeping, I playing with Chi-chi" (his cousin's name is Chennai.) I had to laugh. This is just one of the times over the past few weeks that he has told me exactly what he was doing, what he wants to do, what he doesn't want to do.
I had a realization that day while the munchkins were sorting. I realized that up until recently I had to interpret my sons actions and small amounts of verbal communication in the best way that I possibly could. But it turned out that many times, surprise surprise, I had no clue what he was actually communicating to me. No wonder we were both frustrated! No wonder that sometimes we still are.
It seems that every new stage he goes through, I am re-introduced to my child. It's not that I didn't know him before. That just isn't the case. We understood each other in that stage and now we are moving on to another stage. In this new stage we will learn to understand and enjoy each other. Once we enter yet another new stage, we will get to know each other again.
Jasmine is a co-housing, home birthing, missions minded, community living mama with a passion for fierce writing. She blogs.