I understand that many of you likely live in an urban area, and so this post may sound a little odd to you. I live in rural Nebraska – smack in the middle of farm country. There aren't a lot of people here. For example, I drove 250 miles the other day and saw perhaps a dozen cars. I live on the edge of an average-size town, and the population is 450.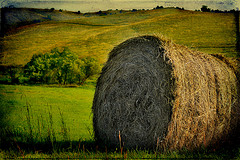 We're used to isolation here. In some ways, it makes attachment parenting easy – not a whole lot of people here to pass criticism; in some ways, it makes attachment parenting hard – not a whole lot of people here to go to for support. The people who are here tend to have the same views, some rather narrow-minded, because there simply aren't enough people to split into separate interest groups!
But I know there's a need for AP support here. I get calls here and there, sometimes from parents, sometimes from La Leche League leaders, who want community AP support. Problem is, there aren't enough people in any one town or even county, or even group of counties, to hold a formal Attachment Parenting International support group. So, I'm faced over and over with the decision, do I try to start a support group here?

One day, I realized something so unbelievably simple – it's not about me! An API Support Group is about the parents API has the potential to help…through me. Does it matter that I may go months without more than a couple – or even, any – parents attending my meetings? Not to that one or two parents.
Starting and leading a support group can be intimidating to a new API Leader, or someone interested in leadership but who hasn't made the commitment by applying for leadership. Unless you're already a LLL or ICAN leader, or even a Lamaze or Bradley educator, you probably have little to no experience in starting and leading a support group. But, it's really not nearly as complicated as your mind makes it out to be.
I used to be you. I waited around for three years to jump into API leadership until another person in Nebraska – a LLL Leader who had recently moved from Georgia (USA) – decided to start a group. I didn't know anything about leading a support group, and the concept of learning it was daunting. But, it really was just a matter of reserving a library room, posting meeting times somewhere that people look like in a newspaper or one of those free websites, and welcoming parents at the door. I used to think leaders needed to present a research-based lecture, but it doesn't have to even be that formal. With API of Lincoln, we now sit in a circle with older kids playing nearby, and share our thoughts and questions on a specific topic related to attachment parenting. No one lectures; everyone shares. The hardest part is to get to the meeting location on time.
Which is actually a significant challenge, considering I live two hours a way in a remote part of the state. Which brings us back to the original problem – getting support to the rural area, because I don't know anyone else but me who is willing to drive two or more hours to go to a one-hour support group meeting. I can make it work because I have family and friends in that area of the state, but without these ties, it would take some convincing to make the drive.
What are your ideas to bringing API support to rural areas?
Photo: Micheal  Peterson