Many of us attached parents understand what it's like to feel ostracized for our choice in parenting practices. We're tired of the looks and comments about giving birth without drugs, breastfeeding beyond six months, holding our babies all the time, disciplining without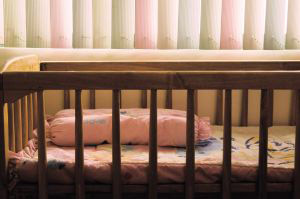 punishing, forgoing a career to stay at home, and taking the time to soothe our night-waking children back to sleep. Attachment Parenting would be great except for that whole bit of dealing with the judgment of our family and friends, not to mention complete strangers.
Which is why I want to call attention to what is happening in our AP community: As much as we try to be welcoming to every AP parent, there is still judgment passed among us – the woman whose birth ended in a Cesarean, the mother who cannot breastfeed, the father who came to AP later and with a history of spanking, the lower-income families in which both parents must work, the parents who do not take their baby to bed with them, and so on.

Now, I'm a big proponent of bedsharing – I think it's, as the saying goes, "just the best thing since sliced bread" – but what I value more than allowing a child to sleep with her parents is giving permission for parents to be able to make the choice of how a child cosleeps. There are some attached parents who do not sleep with their babies but who place them in a crib in their room. For whatever reason, whether it's that they're not breastfeeding or perhaps the father is quite the roller at night, these families work best with the baby sleeping on another surface.
A couple months ago, I was talking with a mother who was very interested in AP. I somehow got on the subject of cosleeping (which isn't too hard for me), and she "admitted" that her baby sleeps in this convertible crib. These kinds of comments usually bring to mind an automatic picture of a little one lying in a bare crib, alone in her dark room, crying, with the parents down the hall sleeping away. But, this woman said that she desperately wanted to bedshare, but her baby would only sleep in the crib. Apparently, there are some babies that just don't want to be crowded in their beds.
The point of my story here is, this mother said she felt very alone in her parenting approach even among AP families because her baby crib-sleeps. The thing is, this woman was still cosleeping – the crib was right beside her bed so she could put her hand through the slats and touch her baby. She still got up and breastfed her baby every time he woke up. She was as AP as you could get without bedsharing.
So, I ask you to please keep in mind the attached parents who do things differently than you and to remember that they love their children just as much as you love yours. They may not do exactly what you'd do in parenting their children, but they're doing what works for them. It's important that as we explore the various ways that parents can AP that we are still understanding of others' situations and accepting of others' decisions. It can make a big impression.
I couldn't breastfeed my first child, but the only mom's group around at the time was a breastfeeding support group. I went to the meetings anyway, because I so needed the parental support. While literally everyone else in the room lifted their shirts and nursed their babies, I took out a plastic bottle of pumped breastmilk from my mini-cooler, mixed in fortified formula, attached a rubber nipple, and gave it to my baby. It would've been awkward if the group leader didn't welcome me with open arms. She never passed judgment on me, for not breastfeeding, and only encouraged me in my AP practices, introducing me to bedsharing and positive discipline. Her kindness, even when I didn't quite fit in, radically changed the course of my parenting journey.
My hope is that as you interact with other AP parents in person and online, that you're able to do the same as this woman did for me – to accept the differences for what they are, to encourage personal growth, and to gain a new perspective on what AP means to others…and yourself.