Button your shirt back up – that's not exactly what we had in mind. But, you're much more valuable to the breastfeeding experience than you think. Dads can certainly contribute to successful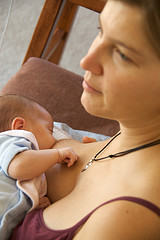 breastfeeding if it's treated as a team effort. Here's how to help mom and baby get off to a great start.
Speak up, your lady is listening! Does dad have any influence on mom's decision to give baby breast milk or formula? To find out, researchers assigned one group of expectant fathers to take an infant care and breastfeeding information class, while another group learned about infant care only. Nearly twice as many mothers whose partners learned about breastfeeding decided to give it a try as did mothers whose partners learned about infant care only. It appears dad does have a say in the matter.
Get her started. Once the decision has been made, dads can help moms get the hang of it. Help your sleepy partner remember what the lactation consultant taught. Fetch her earmarked nursing books and tall glasses of ice-water with a bendy straw. Seek information and assistance before problems become overpowering. Your partner's experience in the early days often determines whether or not she can happily continue. Do all you can to make breastfeeding convenient, troubleshoot problems, and help your partner embrace the many positive aspects of feeding time.

Keep her going. Sleep deprivation, soreness and feelings of incompetence can be overwhelming, especially while mom and baby are trying to learn a new skill. Dads can provide motivation to continue. Mothers of breastfeeding infants reported their partners' commitment to breastfeeding, anticipating needs, and simple words of encouragement contributed to breastfeeding success. Never underestimate the value of letting your partner know how well she is doing, how beneficial her efforts are to the baby, and how much it means to you that she is so dedicated to breastfeeding.
As a father, you may not make the milk, but you don't have to be a silent observer. You're an important part of your baby's feedings and mom's support system.
Sources
Tohota J, Maycock B, Hauck Y, Howat P, Burns S, Binns C. Dads make a difference: an exploratory study of paternal support for breastfeeding in Perth, Western Australia. Int Breastfeed J. 2009; 4: 15. Published online 2009 November 29
Wolfberg AJ, Michels KB, Shields W, O'Campo P, Bronner Y, Bienstock J. Dads as breastfeeding advocates: results from a randomized controlled trial of an educational intervention. Am J Obstet Gynecol. 2004 Sep;191(3):708-12.
---
Courtney Sperlazza, MPH, works in public health research and took an interest in attachment parenting shortly before the birth of her first child in 2009. Courtney can be reached at webeditor [AT] attachmentparenting [DOT] org.
Photo: benklocek/Flickr