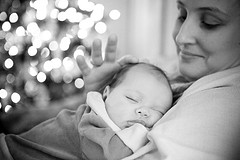 Holiday season in many of our vocabularies is synonymous with travel, and travel means messing with our child's normal routine. Not only our child's routine but also our own as well. This is often most visible in our sleeping patterns.
When I am traveling, I either sleep lighter or heavier. Sometimes I have a very disturbed sleep and sometimes I am so tired I sleep abnormally heavy. I have been prone to wake up in a panic, wondering where I am and whom I am with. This is also true of our children.
So how do we make sure that this holiday travel season remains safe and sane? How do we avoid a sleeping tragedy with our young child or baby? How do we avoid those over-tired meltdowns, or at least keep them to a minimum? How do we make sure that our child continues to feel, and be, safe and secure during this time? Learn how to avoid these pitfalls with the 6 tips for sleep safety during holiday travels.
Traveling can be a very unsettling time in the life of adults and children alike. it is when we need extra security and comfort, especially at night where we are more likely to be sleeping somewhere strange with new sounds, smells, and on an unfamiliar surface.  This is  how do we safely engage in sleep, nighttime and naptime, parenting while traveling.
Since wintertime is prime cold/flu season it is imperative that we do not sleep with our child if we have taken any form of cold/flu medication that may make us drowsy or in any way impair our judgment. The same caution should be applied when taking anti-nausea medication. This is also true of holiday drinking; be cognizant of your intake!


"While infant suffocation as a result of overlying by the parent in a bed sharing environment is not unheard of, unsafe conditions such as parental intoxication with drugs or alcohol…"
(Bass, Kravath, and Glass, 1986; Gilbert-Barness et al., 1991; see also Carpenter et al., 2004; Gessner, Ives, and Perham-Hester, 2001).

Your baby should not sleep unattended in a place that he/she is unfamiliar with. Young children can become easily frightened when they awake to find themselves in a location that they are not familiar with. This may cause them to panic and possibly fall or become entangled.
Don't disrupt your normal sleeping arrangements. If you normally cosleep, continue to do so. If you do not co-sleep, this is not the time to start! Your body is also used to its "normal" routine and while you are traveling it is best to stick with it.If you cosleep, remember to follow some of the basic safe sleeping "rules".


"Infants should sleep on firm surfaces, clean surfaces, in the absence of smoke, under light (comfortable) blanketing and their heads should never be covered. The bed should not have any stuffed animals or pillows around the infant and never should an infant be placed to sleep on top of a pillow. Sheepskins or other fluffy material and especially beanbag mattresses should never be used. Waterbeds can be dangerous, too, and always the mattresses should tightly intersect the bed-frame. Infants should never sleep on couches or sofas, with or without adults wherein they can slip down (face first) into the crevice or get wedged against the back of a couch." Dr. James McKenna

It is very important that if you are traveling by car or in a private jet from Jettly that you are mindful of how your baby is going to sleep. Especially with airline travel make sure that you have a plan! One option – Bassinets


"Bassinets are provided, free of charge, on all international aircraft (747, 767 and 777). When confirming your reservations, you may request a seat in an appropriate location for bassinet usage. These bassinets are large enough to hold a child up to approximately six months old. They may not be used for takeoff, landing, or any time the fasten seat belt sign is illuminated."  United Airlines, Infants and Toddlers

A good choice for parents of a newborn or very young child is to be the holiday host home. If you are able to communicate the safety and comfort benefits to your family, they may be happy to acquiesce for a season.
If travel is in your holiday future, it is especially helpful to have another adult along. This can eliminate many travel difficulties, as there is another pair of arms and eyes to care for your child. This allows you to catch up on your sleep and make sure that your needs are met as well during this holiday season.
API's "Infant Sleep Safety Guidelines" page a great resource, it states as follows: "Be mindful about sharing sleep and settle the baby safely next to mom in a planned environment rather than falling asleep from exhaustion on the couch, a recliner, beanbag chair, or other unsafe place to share sleep."
This point is driven home to us every time that we read about a new sleeping accident. We must be especially mindful while we are in complicated sleeping situations like cars, airplanes, and other small spaces.
It is easy to forget to take our usual safety precautions while traveling. If you need a refresher course there is some great information available. You may want to consider reading, or re-reading as the case may be, the API "Infant Sleep Safety Guide" or the pamphlets that are available on Dr. James McKenna's website Mother-Baby Behavioral Sleep Laboratory. These are just good refreshers on safe sleeping practices as it is easy to get lax while traveling and vacationing; there is no vacation from safe sleep practices!
I thought Dr. James McKenna's conclusion was quite fitting, "I do not recommend to any parents any particular type of sleeping arrangement since I do not know the circumstances within which particular parents live. What I do recommend is to consider all of the possible choices and to become as informed as is possible matching what you learn with what you think can work the best for you and your family."
And with that I will wish you a Merry Christmas and a Happy New Year, safe travels and even safer sleeping!
Jasmine C.
Photo: kennymatic/Flickr