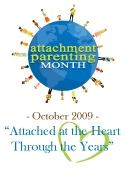 Happy Attachment Parenting Month! "Attached at the Heart Through the Years" is the theme for AP Month 2009 and a statement that healthy, secure attachments between parents and children is a dynamic process that extends throughout childhood that extends beyond infancy. During AP Month 2009, parents are challenged to re-examine their daily activities and traditions and learn new ways to grow with each other and remain close and supportive.
API Speaks would like to reflect on, and demonstrate how, we (as parents) remained and will remain "Attached at the Heart Through the Years" and one way we're going to do that is with an Attachment Parenting Month blog carnival.
To participate in the carnival, submit a post on one or more of the following topics as we celebrate growth:
Ways in which you've flexed through tough transition periods
Ways in which your routines and traditions have subtly or dramatically changed to accommodate your child's growth and maturity
Challenges you've faced as your child grew that you never expected and how you resolved them
Ways in which you've grown as a parent
To participate, simply publish a post on one of the previous topics to your blog with the following text:
This post is part of the Attachment Parenting Month blog carnival, hosted by Attachment Parenting International. Learn more about how you can stay "Attached at the Heart Through the Years" by visiting API Speaks, the blog of Attachment Parenting International.
Once your post is completed, please send an email with a link to your AP Month post to moderator AT attachmentparenting DOT org. Submissions will be accepted until Wednesday, October 14 at noon PDT. API Speaks will then link to your post on Monday, October 19. We may publish multiple posts, depending on how many submissions are received.
If you do not have a blog, but would like to submit a guest post for AP Month, please contact me at the email address above.