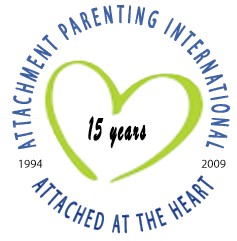 A week ago, Friday morning, I kissed and hugged my husband and children goodbye and boarded a plane from the Lincoln, Nebraska, airport on my way toward Attachment Parenting International's 15th Anniversary Gathering in Nashville, Tennessee. Besides a mix-up on gate numbers during my layover at the Minneapolis airport, and then being seated next to the lavatory on my second flight down (what's that smell?), it was a good trip. It gave me several hours of reading and a great view of the earth that can't be seen in any other way than in an airplane.
Knowing that I was going to be picked up from the airport along with Dr. James McKenna, well-known cosleeping expert and author of Sleeping with Your Baby, I made a dash to the bathroom at the Nashville airport to change out of my jeans, tank top, and sandals into an outfit in which I would be more comfortable shaking hands with a renowned parenting expert. So glad I did, too, because not only was Dr. McKenna in the vehicle but also author of Let the Baby Drive Lu Hanessian and API Co-founder and co-author of Attached at the Heart Lysa Parker!
We drove over to API Co-founder and author of Attached at the Heart Barbara Nicholson's home for supper, where I saw the most wonderful sight of API Board of Directors president Janet Jendron and her daughter Claudia, API Executive Director Samantha Gray, and API Membership Coordinator Stephanie Petters, among others, joining together in a fury of fresh vegetables and greens, and pots of spaghetti and tomato sauce, making supper.
Throughout the night, people fresh from airport pick-up made their stop in Barbara's beautiful home, greeting one another like everyone was old friends. I was a little overwhelmed to be in the company of so many of these parenting experts who helped to make API be what it is today – an organization working to educate and support parents worldwide in attachment-based parenting practices to benefit not only their children lives in profound ways but also their families.

Saturday
On Saturday, I slept in until it was time to head over to the lobby of Belmont University's Trout Theatre where there were a variety of silent auction items from purses and paintings and baby food makers to gift certificates for restaurants and family music classes, and more. A few hours later, I was sitting in the Theatre listening to eight of Attachment Parenting's foremost experts as they delved into the theme of the much-anticipated Think Thank Event – "Making an Impact Now: Creating a Sustainable Legacy for Children." Never before had all of these amazing minds gathered together at once to talk about Attachment Parenting:
Author, nurse, and mother to eight children, Martha Sears, RN
Author, pediatrician, father of Attachment Parenting, and father to eight children, William Sears, MD
Author, midwife, and director of The Farm Midwifery Center, Ina May Gaskin, MA, CPM;
Author, co-founder and former executive director of La Leche League International, and mother to nine children, Mary Ann Cahill
Author, psychotherapist, and mother, Isabelle Fox, PhD
Author, anthropologist, and director of Notre Dame University's Mother-Baby Behavioral Sleep Lab, James McKenna, PhD
Author, co-founder of API, and mother, Barbara Nicholson, MEd
Author, co-founder of API, and mother, Lysa Parker, MS, CFLE.
Moderated by the talented author, founder of WYSH, former NBC anchor, and mother Lu Hanessian, these experts delve into the all-important topic of why it's important to raise our children with attachment in mind, and how to do so. It was a superb introduction to AP for those parents new to this different approach to childrearing and a great reminder for those parents who are currently practicing AP – plus there were other new ideas shared; for example, the effect of involved fathers on children and families…and perhaps the most talked-about concept was Dr. McKenna's explanation of tandem parenting in which both parents are primary attachment figures instead of the long-thought family design where only one parent can be the primary and the other is the secondary. Look for a recap of this event next week on The Attached Family, or purchase an MP3 recording or CD through the API Store when they become available.
Afterwards, there was a reception where attendees could meet the panel of experts and one another, while bidding on auction items and eating the most amazingly original, gourmet hors d'oeuvres I've ever eaten, catered by the Copper Kettle.
That night, I went to the country music performance of singer-songwriter API Resource Advisory Council member Beth Nielsen Chapman, Barbara's husband singer-songwriter Gary Nicholson, and singer Vince Gill, and their children, at the 3rd and Lindsley Bar and Grill. That was an amazing live performance! It was so neat to see these parents with their children, enjoying their shared passion of singing and playing music. There was an auction for a guitar signed by the artists, and everyone got to talk with the artists afterwards.
Sunday
After a rather late night, I was up early Sunday morning to sit in on a special Hot Topic session with Dr. Isabelle Fox, who spoke on divorce, custody, and child development with emphasis on the adverse effects of overnight visitations with infants and toddlers. Dr. Fox is a brilliant mind and AP advocate, and I found her session to be extremely informative. You can read two articles covering this session this week on The Attached Family.
Later that afternoon was a children's concert with music artist Roger Day and his band. I was only able to catch the first few minutes before I had to go to the airport for my trip home, but while I know the music was geared for the youngest generation, I really wanted to get up, clap, jump up and down, and dance around!
My Evaluation
Overall, the event was really great. The best part was getting to talk the panel of experts from the Think Tank Event, listen to extremely talented singer-songwriters during the 3rd and Lindsley performance, and listen to Dr. Fox's insights on custody issues related to AP. It was a great birthday party for API, and a celebration API Co-founders Barbara and Lysa aren't sure to forget.
Did you attend, and what was your favorite part during the weekend? The food? The people? The …?