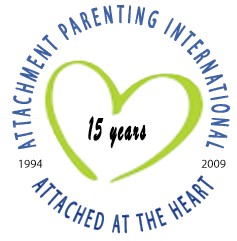 A week ago, Friday morning, I kissed and hugged my husband and children goodbye and boarded a plane from the Lincoln, Nebraska, airport on my way toward Attachment Parenting International's 15th Anniversary Gathering in Nashville, Tennessee. Besides a mix-up on gate numbers during my layover at the Minneapolis airport, and then being seated next to the lavatory on my second flight down (what's that smell?), it was a good trip. It gave me several hours of reading and a great view of the earth that can't be seen in any other way than in an airplane.
Knowing that I was going to be picked up from the airport along with Dr. James McKenna, well-known cosleeping expert and author of Sleeping with Your Baby, I made a dash to the bathroom at the Nashville airport to change out of my jeans, tank top, and sandals into an outfit in which I would be more comfortable shaking hands with a renowned parenting expert. So glad I did, too, because not only was Dr. McKenna in the vehicle but also author of Let the Baby Drive Lu Hanessian and API Co-founder and co-author of Attached at the Heart Lysa Parker!
We drove over to API Co-founder and author of Attached at the Heart Barbara Nicholson's home for supper, where I saw the most wonderful sight of API Board of Directors president Janet Jendron and her daughter Claudia, API Executive Director Samantha Gray, and API Membership Coordinator Stephanie Petters, among others, joining together in a fury of fresh vegetables and greens, and pots of spaghetti and tomato sauce, making supper.
Throughout the night, people fresh from airport pick-up made their stop in Barbara's beautiful home, greeting one another like everyone was old friends. I was a little overwhelmed to be in the company of so many of these parenting experts who helped to make API be what it is today – an organization working to educate and support parents worldwide in attachment-based parenting practices to benefit not only their children lives in profound ways but also their families.
Continue reading "Seeing API in a Whole New Light"