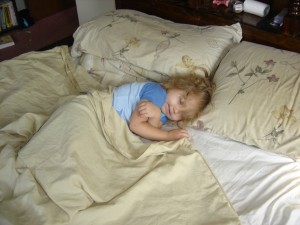 Next month, she'll turn 3. And yes, she is still in our bed.
They say she'll never become independent. They say she'll never learn to sleep on her own. They say we'll never get her out of our bed.
They say a lot of things.
But they aren't there at night, when her heartbeat and mine start beating in sync, our own song of love. They aren't there in the morning, when she wakes up with a smile and confidence from knowing she belongs.
Because right now, at this time in her life, this is where she belongs.
It will change, and probably soon. The signs are already there. So, despite what they say, she will continue to be welcome into our bed for as long as she wants.
They can say what they want, but it won't change a thing. She is where she belongs.
Shelly is a WAHM to two girls. You can find her daily at Adventures of a Breastfeeding Mother.