Last year, I gave my sweet husband the colossal task of finding a birthday present for me that a) wasn't materialistic and b) showed me that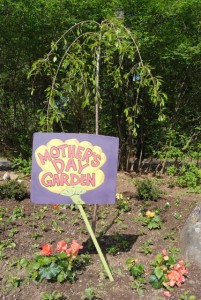 he really knew me inside and out. After hearing my request my husband slouched his shoulders and said "Wow, that's a tall order. Anything I get you is going to be a great disappointment." This year, hubby had his thinking cap on!
I went out of town for a day and my husband and my boys played all day to build an amazing Mother's Day Garden complete with sign and all (see attached photos). The kids loved digging, planting and playing king-of-the-dirt-pile but I think they were most excited to show me all of their hard work when I returned!
For my birthday which happens to be right after Mother's Day, my husband and my babies dug out, and put together two raised bed gardens for my veggie garden. I was unbelievably touched by my gardens; my husband clearly knows me better than I know me (at least sometimes). Not only have we been enjoying fruit and flowers all summer but my children learned a lesson on giving from the heart and getting their hands dirty.
"Be aware of wonder. Live a balanced life- learn some and think some and draw and paint and sing and dance and play and work every day some" Robert Fulghum