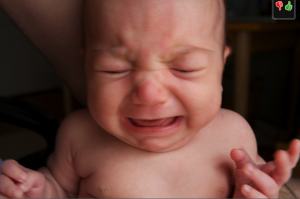 As a new parent, I've begun to notice interesting terminology used by parents and other observers of children. Today I was given a compliment – "you have such a good baby!" Translation: My baby sat quietly during our moms group meeting, looking around contentedly and smiling at babies and moms in the room.
While I'm pleased that my daughter was able to bring joy to those around her, I also reject the premise of the compliment.
Why? To say that a baby is good when she's happy implies, also, that she's bad when she's unhappy.
What our culture begins to communicate, from the first day of life, is that "positive" emotions are acceptable and welcome, and "negative" emotions are unacceptable and unwelcome.
Very few of us are immune to such judgments in our 'civilized' society.
How do these judgments affect us?
Many of us have learned to keep "negative" emotions – anger, resentment, frustration, jealousy, discontent – bottled inside. Some of us have become such experts at this practice that we are unaware of the nature or depth of our authentic emotional state.
Many outwardly successful members of society go through life seeking to please others, choosing paths perceived as acceptable in order not to fall out of favor with others.
This pervasive practice of people pleasing (for short, the four p's) is a recipe for disaster. Not only are we doomed to fail at a life whose goal is to satisfy others – whose minds we can't read – but even if we were to succeed, we would be failing ourselves.
Takeaways for parents?
Be aware of our language. Even by praising our children, we may invalidate their right to 'negative' emotions. Our children are healthier when we enable them to experience life's highs and lows – with proper support and guidance, of course. Pretending the lows aren't there doesn't make them go away; it just sends them deeper underground, doomed for explosion or implosion.
Takeaways for the rest of the population?
We are not good when we are happy and bad when we are down. We are simply experiencing the natural spectrum of emotions as part of our human experience. When we take the time to appreciate all of our experiences, they will have far less power over us, thus increasing our capacity for true joy and contentment.