I used to chuckle just a little bit when people said that they were "trying" to have a baby. I mean, didn't anyone ever teach them about sex? You do it. You get pregnant. Not always right away, but it does happen unless there is a problem. If there is a problem, then you might need a little help.
Well, that is what I thought.
I came by that thought fairly honestly. My mother never had any trouble getting pregnant; I was a honeymoon baby and so was my son.
I thought that getting pregnant with the second one would be just as "easy." We didn't even consider "trying", we just went about our normal lives and…. nothing. I know that there are those of you who have experienced this; some with your first, some with your second or more. But, I really couldn't imagine how we could be pregnant immediately with our son but now it has been, well, a while, and nothing!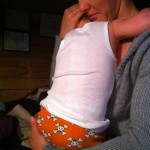 We have tried many different things, but we are not willing to go medical at this point. I know my body well and there isn't anything wrong. I know what the diagnosis would be, "unexplained" they would say. Plus I do have to admit that I am a little bit anti-establishment.
I look at my son and I am so grateful for him and at the same time I am wishing for another. Sometimes I think that I am so selfish. My little boy is beautiful. I love him like crazy. But I still want another one. My little dude has his cousins to play with; he won't be alone. But I still want another one. From the time I was young, the thing that I wanted to be was the mother of several children and suddenly I am having to face the reality that I really may have only one child.
I have had to work very hard to not let the disappointment saturate my life, especially the relationships with my husband and son. I remind myself almost daily that they are also the fulfillment of what I wanted to be, a wife and a mother. I am both and they are the reason I am both. I have had to "self-talk" to remind myself that all of this is a gift and that squandering any of it by wishing for something else is not only ungrateful, but harmful to my little family.
I am the barometer of our family. I read how my family is feeling and adjust our daily lives around that. I am also usually the one to set the emotional atmosphere for our small family. If I am upset pretty soon both my guys will be upset; if I am sad, they will become sad, etc. The good thing is that I can see how close we all are, how attached, but the bad part of it is that I have to be very choosy about when and how I express my disappointment or frustration, which has to happen sometimes, because done wrongly it is damaging to them.
I would like you all to feel free to share your stories.