"API Reads Monthly Top 5," is a new series from the API Reads program, where Attachment Parenting International will post our top 5 quotes from a compilation of resources currently being reviewed by the team.
Editor's Note: Even though these quotes have stood out to the reviewers, the resource is still under review. Please use your discretion when reading these resources on your own. We cannot guarantee that there are no conflicts with API's philosophy, mission, or principles until the resource has been completely reviewed. Be sure to check APedia (soon to be launched) at a later date to see the final summary from the reviewer.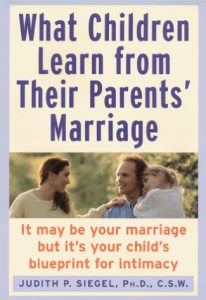 Each of this month's Top 5 quotes from from the ebook, What Children Learn From Their Parent's Marriage: It May Be Your Marriage, But It's Your Child's Blueprint for Intimacy by Judith P. Siegel PhD.
1) Page 2 —
"The truth is, most children are aware of many 'private' exchanges their parents assume are beyond their comprehension — a small gesture of comfort, a hostile glance. While your children may not be talking to you about what they are learning, they are drawing conclusions about 'what happens' to people who are married."
2) Page 7 —
"Even when a person is exposed to a different environment in adulthood, he or she continues to hold on to the beliefs, values, and expectations acquired in the childhood home."
3) Page 36 —
"Sleep deprivation usually adds to the mother's experience of being exhausted and overwhelmed. Because the baby's demands are real and urgent, it is normal for her to put her own needs second. But learning how to prioritize and balance her husband's need for her is complicated and stressful. Although most new fathers are thrilled with the addition to the family, they are not prepared to lose their intimacy with their partner. If the couple is not able to find time to be alone together, the relationship suffers in important ways."
4) Page 42 —
"Children and teens who are overly involved with a parent have a harder time growing up. Problems persist into adulthood, and the grown children often repeat their parent's reliance on self-interests, extended family, or work to bring them happiness."
5) Page 42 —
"Establishing the priority of the marriage does not mean that all other commitments and loyalties are tossed aside, but it does mean that the partner's needs are constantly kept in sight. Even when there are competing demands, the partner and the marriage are respected. If parents want their children to find happiness in life from a wife or a husband, they must look at the message they are sending by the example of their own marriage. A marriage that can be protected from the demands of other obligations is not taking away from the children; it is giving to them the expectation and hope that one day they, too, will have a loving partner."