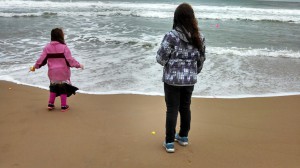 Compassion.
What does this word mean to you?
I see compassion as being open to seeking the truth in any given moment. As a parent, I am constantly invited inward in order to seek my truth. Our children and partners have their own truths. It can be challenging when I am forced to find the truth that lies within each person in my family.
Truth.
What does this word mean to you? It may mean being honest, open and vulnerable. It might mean only speaking what you know to be right or it could mean a variety of other different options.
Truth, as I am speaking of now, is the inner voice that each person brings into the world. It is that innate wisdom that we each hold. It is the intuition that guides us forward as we are making decisions within our lives.
Our children are born with their own truths, and as parents, we are invited to take part in assisting our kids as they open to that guidance. Compassion arises when we are open to seeking out those truths.
"Compassion is the basis of all truthful relationship. It means being present with love for ourselves and all of life." ~ Ram Doss
This quote is one that resonated with me the minute I heard it. The words brought on a new level as I began to understand how they may play out in my role as a parent. It reminded me of one of Attachment Parenting International's Eight Principles of Parenting — Strive for Personal and Family Balance — for it is when we are in love with ourselves that we can find what is needed to nurture another.
Finding balance and taking time for my needs has been one of the most challenging aspects to the role of being a parent.
When my daughters were both under the age of 5, I thought that taking time to myself was a joke. How could any parent do that? Don't we need to be fully engaged with our children all the time no matter what?
I could not have been further from my truth. What I was missing in my thinking was that when I took time to engage in activities that nourished me, I was able to offer myself compassion…which leads to hearing my wisdom…which allows me to be fully present to my children and their truths.
What I needed in those early years was permission to allow for self-compassion. I needed to know that not only was it OK for me to take a few moments to myself, but it was absolutely vital.
Compassion requires balance and a willingness to be available to yourself. This is the key to my parenting that has served me well as my daughters are growing older.
The beauty is that I have taken the steps to implement this message into my daily routines and my daughters have both been witnesses to this. They have seen what it looks like when I am in balance and what it looks like when I am a mess — yes, those days happen! From those observations, my children are empowered to find what is needed for them to be centered, mindful and aware of their own truth.