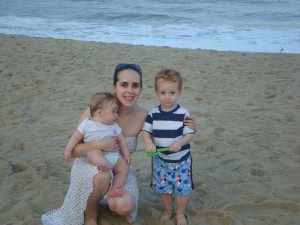 Hitting is a normal toddler behavior that often begins between ages 1 ½ and 2 years old. There could be many different reasons, including the child being angry but unable to express it or you being unable to understand what he's trying to express, a life change such as a new sibling, or simply the child wanting to explore what her hand can do and what happens when she hits.
So, what can parents do about it?
Shortly after my son's 2nd birthday and right around the time my next baby was born, my son began hitting. He would hit his brother when he was angry, and sometimes he would hit my husband and me playfully, which was still something we wanted to discourage.
We tried a variety of different strategies to prevent it and teach him not to hit. Here are 4 positive discipline ideas to try if your toddler hits:

We tried to find new, creative things to do with his hands throughout the day, such as teaching hand-clapping games, different hand gestures like thumbs-up, or sign language — just something to engage the hands in a more productive and fun manner. Sometimes, if I saw he was about to hit playfully, I would try to high-five him instead.

We also did a lot of soft, nurturing touch with him, like rubbing his arms, and made that more of a part of our day.

I found that it was really beneficial to give him more outlets to get out some of his physical energy: running outside, finding things that he could throw, and letting him hit a pillow.

It was important to me to model empathy and try to show that hitting can hurt. If he did hit us, I would often make an exaggerated sad face and say how hurt I was. Once we were out of that immediate moment of his anger — or silliness, in some cases — I would remind him that hitting hurts, that we shouldn't hit others, and that we have to use soft touch. If he was really angry, we'd talk about other concrete ways that he could express that anger instead.

We made a point to model this with his stuffed animals. I have a video of my son when he was two where he hits his stuffed panda and says, "Slap panda." After a second, he rubs the panda's arm gently, hugs it, and says, "No, hug. Hug panda!"
What's most important during a hitting situation is to stay calm and to remember that it is normal part of toddler development. It's a phase that will pass, and the 4 ideas above may be some techniques to help it pass a little more quickly and smoothly.