On the way to Playschool the other morning, I glanced in the rearview mirror and saw tears sliding down my 21-month-old's cheeks.
"Ruby, what's wrong, honey?" I asked, concerned and surprised – she'd been talking excitedly all morning about visiting her friends at school, where she spends two mornings a week.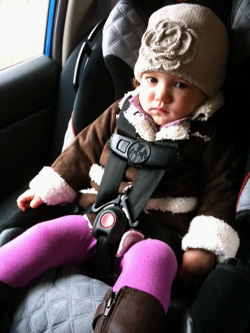 "Oww, mama," she said, tapping her nose with her forefinger, her eyes welling up even more. She'd just gotten over a nasty cold that had kept her out of school for a full week.
We pulled into the drop-off at school, and my daughter's favorite teacher was waiting to take her inside. Ruby started really crying as I unbuckled her. "Oh, she'll be fine," her teacher smiled at me. "We can handle it!"
"I'm sure you can," I smiled back, "but let me have a minute with her."
I held Ruby tight and looked in her eyes.
"Ruby, do you really not feel good?"
"No, mama." (sniff, sniff)
"Do you want to go to school today?"
"No." (sniff)
"Do you just need to come home with mama?"
"Yeah yeah yeah yeah yeah." (nod sniff nod sniff)
In a split second, I mentally ticked through all my work plans for the morning – and then brushed them away. When it comes right down to it, there's just not a thing more important than doing what my daughter needs. So home we went, much to the consternation of Ruby's teachers. I think they thought I was "giving in" to her, or "spoiling" her. But I like to think I just chose to listen to my child. My daughter, who, just like all of us, has her very own needs and emotions, her good days and bad days. I know her well enough to know when she is truly upset and uncomfortable, and when she needs a break. Whatever the reason, she very clearly did not want to be at school that day.
When I was growing up, my parents occasionally let me take what they called "mental health days" when I got too stressed out about school. That time away was invaluable to me, an over-achiever who worried too much from a very young age. I remember those days so clearly, how they'd help me calm down, re-focus, and feel more connected to whichever parent I spent that day with.
I want my daughter to be able to have those kinds of days. I want her to trust that I will listen to her and take her seriously. That when she has an emotional need, I'll do everything I can to meet it. I think part of my job as a parent is knowing her well enough to see those cues, to know when "My nose hurts" actually means "I need some time with you." So that morning, instead of working as I'd planned, I cuddled with my daughter. We read books, ate snacks, and danced to her "silly music." And truly? That time together was more valuable than anything else I could have been doing.
Has there been a time when truly listening to your child changed your plans or your approach to a certain situation?