I've always let my children try to do a lot of things on their own, but lately I've been making more of an effort to allow my 5-year-old son more autonomy in what he's doing. It's sometimes hard to back off and let him make more decisions for himself, but I'm finding it's worth it.
Recently he announced that he wanted to do an art project, so I suggested he look through our art supplies for some ideas of what he wanted to do. Before long, he came back with a random assortment of supplies – a pair of scissors, used cardboards and plain colored cartons. He was also carrying along these heat guns you commonly see with wires dangling as he walks. As I talked to him about his plan, he still didn't know what he wanted. I told him to let me know if he needed help, but otherwise I backed off.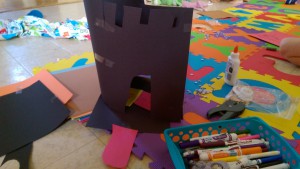 After a few minutes, he showed me a piece of black construction paper that he'd cut into the shape of a castle.
He wanted it to be standing up on its own, so I encouraged him as he brainstormed ways to solve his problem. As he made more parts of his castle — which soon became several pieces of black construction paper taped together so they stood — I forced myself to keep from taking over, offering suggestions before he asked for them or telling him, "That won't work." I let him figure out on his own whether his plans would work, knowing that the experience of trying and failing is a big part of the learning process.
Each time he had a problem, I asked him, "How do you think you can solve this?" When he wanted to add a drawbridge, he came up with the idea of taping on an additional piece of paper. After he drew and cut out a king that ended up being too big to fit through the door, and I asked him what he could do about it, he answered excitedly, "Make the door bigger!"
I was impressed with how long he worked on the project, how many things he added, and how much he wanted to do on his own without asking for help. The end product wasn't perfect. It didn't stand up for long, and he probably spent more time making it than playing with it. But I also know he loved the experience and learned from it.
I know that, with more help or direction from me, the castle could have been much sturdier and neater, but I also know that my son wouldn't have had as much pride in his work. And I know there would have been more arguments and frustration if I took it upon myself to do something in a way he didn't like.
I've noticed that my allowing him to work on his own through projects like this, as with more daily tasks, has affected his attitude. He's excited when I let him decide on things for himself or take on a new responsibility, and I feel that this change is helping to strengthen our connection.