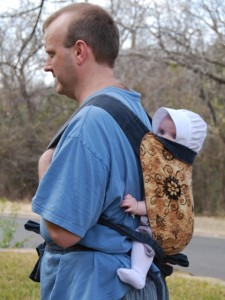 I often hear new moms tell me they are pumping so that dad can give the new baby a bottle. Over and over I hear that they want dad to feel involved and feeding an infant a bottle is just the way to do it.
As the mother of four, this seems redundant to me. My motto is always to prioritize and simplify. If you are nursing your baby, feeding the baby is not a task that needs doing by someone else. You pretty much have that one covered… and you can accomplish it while ostensibly sitting down and thumbing through a magazine or checking your e-mail. In my world, that means nursing is a baby duty I am happy to do! To let someone else feed the baby actually means more work for me, not less, as I have to figure out a time to pump when the two-year old does not tug at the machinery and what the heck do you do with a crabby newborn while you use both hands to juggle the pump anyways? Such a production!
So then, where does that leave dad? And older siblings? And grandparents? And everyone else who wants a piece of that delicious baby-care pie? Fear not, new babies are nothing if not, how can I put this graciously, full 'o needs. Even when mama is taking care of 100% of the feeding needs, baby still needs changing, bathing, dressing and holding. There are still plenty of baby-care duties that can be delegated and provide those special moments for bonding… tasks that actually need doing.
Send dad off on a walk with a well-fed, drowsy baby in a soft baby carrier and put your feet up and enjoy 20 minutes to yourself. Dad gets to bond with the new baby, dad feels competent because babies are generally content nestled in a soft carrier. Win- win! Let older siblings be in charge of choosing the outfit for the day, or singing to the baby during diaper changes. Grandparents can bathe and cuddle the new baby. There is never a shortage of baby care duties. And, hey, if someone really, really still wants to feed the baby, no worries, in 6 to 8 months, baby will happily accept cheerios, banana and avocado from just about anyone.
Breastfeeding can be intense the first few months. The nursing relationship between mama and nursling can seem exclusive. How have you included other members of your family in baby bonding time outside of the nursing relationship?