I've swept up the Art Room. This room is my writing room and has also become my son's chaos room. He paints here, plays here, and learns here. It is a womb of flashcards, water color trays, brushes, paper, stuffed animals, clothes,  crayons, play kitchen items, toy trains, race cars, and other toddler toys. There has been plenty of times when I had to use power washing dublin to clean my carpets full of paint and dirt from the backyard. Carpets shouldn't stay damp for too long. Carpets and rugs are lovely, comfy and comfy . Used and maintained correctly, they're ready to last several years, and become an origin of wonderful pride and happiness. But when not taken care of, unattractive damage could cause numerous problems. The key to any carpet treatment — vacuum-cleaning — must be consistent and complete. Some research has shown an honest vacuum-cleaning can eliminate up to 80% of soil inside a textured plush carpeting. supported use and placement, carpets must be cleaned by professionals carpet cleaning Ann Arbor annually , and spot cleaned as required within the meantime. Drymaster Carpet Cleaning has been operating in the Newcastle since 1990 and has the experience, equipment and procedures to service your premises.There are many varied methods of steam cleaning your carpets. The most common form of steam cleaning is a 1 stage process, where a cleaner will bring to your home a portable machine, similar to the machine that you can rent from the local supermarket or hardware store. This steam cleaning machine is filled with water and detergent and your carpet is cleaned without any pre spray or agitation. This method cleans your carpet without a rinse process and unfortunately leaves detergent residue in your carpet which will promote rapid re soiling. This steam cleaning method is over 20 years old and is not the preferred method by most carpet cleaners today, but unfortunately is still being used by a lot of budget type cleaning companies. Carpet cleaning experts in Newcastle also offers our customers the carpet Dry Cleaning method. Carpets are indeed one of the most important things that we can find in our homes. These can make or break the look the whole room. This is why most people always make it a point to have carpets in their homes so that their homes will look as elegant and as nice as they should be. This is true only under one condition. carpet cleaning usually look their best especially when they are still clean and new. A newly bought or installed carpet would always pull the look of the simplest room there is. Most carpet owners do make it a point to maintain the cleanliness of their carpets. We all know how carpets attract dirt so much. Even if we try to take care and keep our carpets clean, there will always be a stain that will begin to pop out of it. Once a carpet looks very dirty, this can now destroy the look of the whole room. This can now leave the room very untidy and not well cleaned. This is the primary reason why you should always maintain the cleanliness of your carpets all the time. Whether you do this on your own or you hire carpet removal service to do so, you need to make sure that your carpets look as new as they should. One equipment that has really made carpet cleaning such an easier but effective cleaning job is a vacuum cleaner. These are tools or equipment which are used to suck out dirt which are trapped within the fibers of the carpet. This is very effective when you want to remove the solid particles, allergens and the dust which have stayed in the carpet. Although cleaning the carpet thoroughly, removing the stains do need extensive cleaning procedures in order to remove them in the best way possible.
Ten minutes before I swept, it looked like a bomb of paper based material exploded. Add crayons, spoons, plastic play food, children's books, stickers, paper, paint, M & M's, and one toddler. Chaos.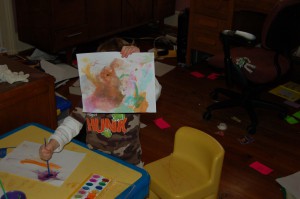 The pile I'm looking at could be swept into a dustpan quickly. And then it would be gone.
But I have to sort out the debris. What is recyclable — at least the paper and plastic.
I'm tempted though to do one clean sweep then I could attempt to floor mop the wood floors. This is my favorite room in the house. It has twelve foot ceilings and pine wood floors with amazing detail that I got thanks to the work of the professional from Epoxy Flooring Bellevue. It has a south facing window which centers the room — one large window nine feet high by three feet. Visit website for more details about DIAMOND COATING EPOXY FLOORING OTTAWA.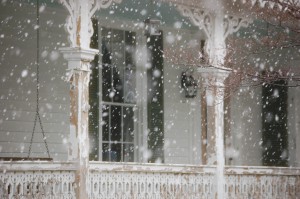 This room is never organized completely, only at best, neatened up. My husband has recently installed a shelf system in the closet to organize my on-going writing and art projects. Confession: I am a pack rat and have kept every paper based memory and scrap of paper.  I have all my art projects from elementary school (thanks to my mom).  I have the first note a boy gave me in sixth grade asking me out. Check yes, no, maybe.
I have kept every letter and card I received as an enthusiastic pen pal writer in the 80's, including letters from my pen pal from Japan and Costa Rica.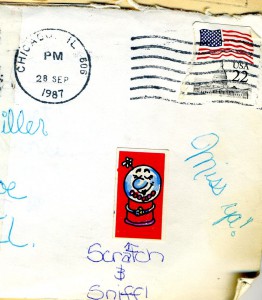 ***
My feet stick to the wood floor.  Invisible toddler tape perhaps. As Ben calls it, sticky gooey. Everyone is asleep as I pull it together to do the impossible — clean this room. My goal is to see the floor. I start with baby steps picking up loose paper. I recycle what I can. I take a deep breath and recycle the toddler art I don't want to keep. Should I keep them all? For Pete's sake — I have over ninety-nine. Throw them out.  He will paint more. Trust.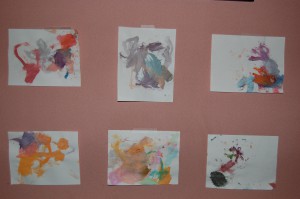 I pick up the books my son loves to dump from the toddler height bookshelf. The rest is a blur. A complicated system in my head of mathematical and analytic order takes over. I put things where I think they may belong. Piles. Lots of piles. They are off the floor for now.
What remains is still covering the floor: a pool of colored collage.
A blue plastic spoon with three vertical grooves lays angled across a scribbled toddler art paper. A crumbled napkin dyed with faded water color paints rests on top. A fluorescent pink index card with pen and ink scribbles hangs to the far right of the pile. The outfielder of the pile — catching loose grounders — about an inch away is a brown dog bone sticker the length of a penny.
A receipt for a failed fertility treatment from August 8, 2008 sits on top of the crayon stew. $244 reminding me of our desperation to be with child. Forever ago.
How did Ben find this bill? I know — he opened the file cabinet. The poor thing is shoulder height to Ben — completely accessible to his exploratory curiosity. (Yes, file cabinets have feelings; they like order — toddlers must make them nervous).
A black teaspoon lays across another fluorescent pink index card.  A cardboard white cake mix box next to an empty ink cartridge. Crayons: thick canary yellow, yellow green, navy blue  — all visible. Too much. I'm overwhelmed.  I'm just going to sort out the paper, crusted in sticky toddler chaos boogers — subtract from the pile.
A black sock bundled. A page from Ben's favorite book, Wacky Wednesday torn out. I can't throw this away; it's the eleven wild wacky things park scene. Ben loves to point them out. The page with the purple limo with the old lady in purple, pushing the yellow buggy on top of the limo.
A wild eyed yellow giraffe sticks his head out of a pothole.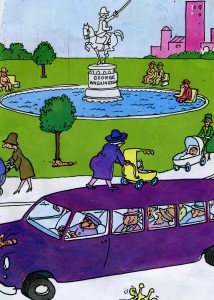 The pile is lessened: progress.
A copper penny: head's up, 2002.
A crayon crumb collage, fit for 80's wax paper iron art projects, on the back of a glossy 8 x 10. I scoop it up and use it as a dustpan, moved enough by the bright colors to take a photo. Too lazy to find my camera, I toss the debris in the garbage.
Flipping the photo over, I see my fourth grade class from 2008. I was so hungry to be a mom in that photo: infertile. I put the photo on top of the printer paper atop my scanner.
The pile still there on the floor.
Next, fetch the plastic Ziploc bag for the crayons: thick purple broken tip still sharp; navy blue — the triangle grip; a plastic crinkle cut French fry (I hate these tiny outliers too tiny for toy bins). I've been throwing them away one by one, even though they fit neatly into the red McDonald's fry holder, which I hate and soon it will get the cut. I'll recycle it though.
The plastic corn ear goes into the keep pile. Place white play cake mix with it. My son thinks he is Chef Ramsey. All play kitchen items are keepers.
My therapist's card (currently going to grief therapy) — I need to call her and make an appointment. This goes on top of my desk.
Blue M & M — throw it away. Maybe eat it.
A scribbled passage for a book I am working on — into the closet.
Yellow green, verde Amarillo, verte-jaune goes into the bag. An orange colored pencil soon behind it.
Turquoise thick Sharpie — no cap, dry as the desert.
Recycle?
Red crayon, red colored pencil. Cheap Rose Art red crayon, orange stub, green stub, thick blue, thin black, thick brown, thick blue — the other half. Royal blue plastic spoon — pile with black teaspoon.
More crayons: purple, navy blue, thick orange, thick red — sticky vegetable potato chip crumbs rolled around it like a Yule log.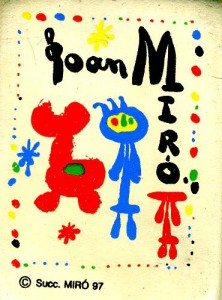 Joan Miro 97 eraser from the Denver Art Museum — bought single, bought solo — a lifetime ago.
A persuasive journal prompt, a rogue teaching resource unearthed and liberated by my son from it's tidy box.
Art Blast washable water colors packaging — not a good idea unsupervised. At least I can recycle the packaging: cardboard.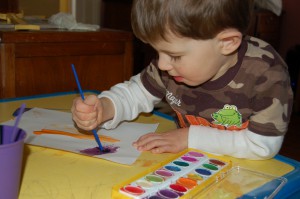 Another persuasive writing prompt card.
I think a piece of dried poop was on the white index card.
A pastel purple index card.
I smell poop. Affirmative on the poop crumb.
Wow, I keep everything (not the poop); I should have just swept all this stuff up.
A brown twig.
My friend's self-published poetry book makes the cut, only because it is inscribed and has "Congrats on the baby" on the inside cover — a reminder of graduate school and my miracle pregnancy.
I'm tired and sleepy. The rest of the pile is going into the dustpan, which actually is just non-recyclable garbage.
I walk by the window, curtains open and turn off the light sneaking a peek at the beauty of this room — the chaos of this room and marvel at the chaos tidied up (for now).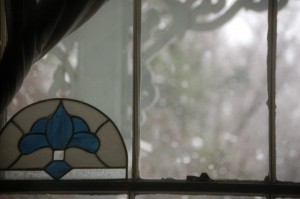 What are the things you hold onto and what are the things you throw away? How do you keep your child's playroom tidy?