"Raising children with secure attachments and empathic hearts is essential to the future of mankind." ~  GreatNonprofits               
Is world peace possible?
When we talk about the potential for Attachment Parenting (AP) to change the world, we are referring to a ripple effect: Our children growing up to be compassionate and empathic, becoming parents who foster secure attachments with their children, whose children then grow up to repeat the cycle of peaceful living both in and out of the home.
Just as what our society experienced with La Leche League International's breastfeeding revolution, begun more than 50 years ago, we at Attachment Parenting International (API) hope to be looking at a different kind of society in coming generations — one where disconnection is discouraged and healthy, securely attached relationships are valued above competition and shame.
API is working every day to better support and educate parents on establishing and maintaining secure parent-child attachments. And parents are striving every day to put API's Eight Principles of Parenting to practice in their relationships with their children.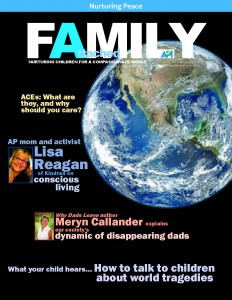 Many parents understand the challenge of adopting the new mindset needed to fully grasp how Attachment Parenting works. This parenting approach requires looking at the world, your child, your role as a parent and the way you live through a different lens — one that not everyone is able to see. API's core ethos is a frame of mind that we promote as a practice: respect, empathy, compassion and reflection in thought, speech and action toward yourself and others.
We believe that parents who practice these habits of mind will tend to practice parenting in ways that resemble API's Eight Principles of Parenting. Likewise, we believe that parents who practice the behaviors included in API's Eight Principles of Parenting are capable and more likely to practice API's ethos.
Once you "get" API's ethos, Attachment Parenting can become much easier, much more "natural." I liken it to stepping into an alternate reality of sorts. You're able to view the world, your community, your home, your and others' relationships in a whole new way and you can then make life choices from a point of compassion, trust, empathy and peace.
Our society tends to shy away from the concept of peace. To many, the idea of world peace is seen to be purely idealistic. We know it as the standard answer of pageant girls competing for Miss America. We also know that there are numerous ways touted to be the answer for world peace, from literacy to racial equality to democracy to certain religions. In reality, for world peace to be attainable, it must take a combination of factors from all levels of society. To many people, that may seem impossible.
Yet peace is what all of our souls crave. It is a sense of contentment, safety and security. It is a joy that doesn't follow emotional highs and lows, that doesn't fade when the excitement of instant gratification falls away. Peace allows us to feel centered and to find our balance quickly when we lose our equilibrium. Peace gives us a sense of purpose and control of our life's direction. When living in peace, people have space in their lives to focus on bettering not only their lives but those around them.
But peace can be elusive. Many people simply do not know how to get to a place of peace in their lives.
For parents who come to API seeking support and education about Attachment Parenting, we offer a way. Secure attachment, promoted through API's Eight Principles of Parenting, can help families find peace. A person whose attachment needs are met is able to think beyond the basic, day-to-day physical and mental survival and the "need" of trying to keep up with the hectic pace of society, in order to experience greater personal well-being and family enjoyment.
API is doing its part in promoting world peace. We truly believe in our mission to educate and support all parents in raising secure, joyful and empathic children in order to strengthen families and create a more compassionate world. And we truly believe in parents' ability to do just that — to raise their children to be secure, full of joy, with the ability to empathize with and show compassion to others.
In the latest issue of The Attached Family, we explore "Nurturing Peace," both in ourselves and our children, with features on:
We hope that this issue of The Attached Family will inspire your efforts to nurture peace within yourself, your family, your community and, yes, even the world.