See what's going on in Attachment Parenting this week on The Attached Family online magazine:
What's the Big Deal with CIO?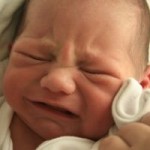 Among parents of infants these days, there is constant debate about how to respond to a baby's cries. On one hand, there are proponents of the "cry it out" method, where the baby is left alone to cry in the hopes that he or she will eventually stop. On the other hand, there are the attachment parents who respond immediately to their crying babies and attempt to soothe them using various methods including holding and cuddling. Margaret Chuong-Kim explains at http://theattachedfamily.com/membersonly/?p=2664.
Healing Birth, The Second Time Around
How do you heal from a traumatic birth experience? How do you put it behind you and find the inner strength to not only move on but to decide to do it all again? Read Heather Spergel's birth story at
http://theattachedfamily.com/membersonly/?p=2658.
The Toddler: 'Baby on Wheels'
It's 8:30 in the morning. My husband looks at me on his way to work and says, "Have a great day!" Apparently he didn't notice the poop on my shirt and disinfectant wipes in my hand. Or the scrambled eggs in my hair. Avanya Manasseh talks toddlers at http://theattachedfamily.com/membersonly/?p=2653.
A Touch Today for a Better Tomorrow
Beginning in the womb, your child becomes used to your touch. The swishing of the amniotic fluid and your gentle movements sway your child within the warmth of your body. This need to be touched by the infant never ceases and, if anything, becomes stronger once you deliver your child. Danielle Buffardi gives an overview of the importance of touch at
http://theattachedfamily.com/membersonly/?p=2650.
A Lullaby Massage Riddle
See if you can figure out the motions to this finger massage from Sybil Hart: A Lullaby Massage Riddle.