Zero to Three has recently released its new State of Babies Yearbook. This report aims to bridge the gap between science and public policy regarding the well-being of America's babies.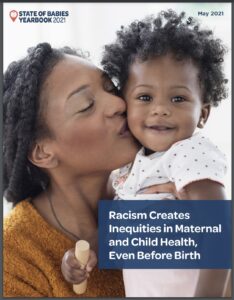 The data in the Yearbook is clear: The circumstances into which a baby is born makes an important difference in his or her life start and direction.
On the surface, the data looks to favor some U.S. states over others.
Related: Parent support deserts in the USA
There's a lot more going on than location–the influence of race and ethnicity, combined with interpersonal and institutional racism, are all critical factors on the quality of health care that mothers and children receive.
Even prior to conception.
Because of intergenerational inheritance of historical trauma, lived experience of racism–both by the parents as well as the generations preceding–weigh on a woman's chance for a healthy pregnancy and birth.
Related: Historical trauma, breastfeeding, and healing with Camie Jae Goldhammer
This report is a wake-up call to those working for the improvement of maternal and child health and well-being.
Learn more about API's commitment to justice and anti-racism.