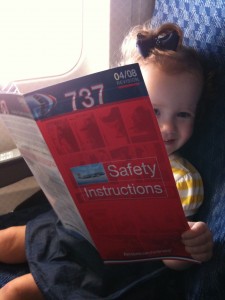 My 22-month old daughter zooms around the living room like an airplane, making whooshing noises. "Mama!" she says, "Whoosh!"
"That's right, honey, Mama's getting on an airplane soon. But I'll be back in two days, OK?"
"Uh-huh," she smiles, and hugs my leg tight. She knows I'll come home, and that I'll miss her terribly while I'm gone – we've done this before.
I think there are sometimes misconceptions about how feasible attachment parenting is for working parents, or in my case, a working and traveling mama. But for my family, AP has been nothing short of essential to maintaining a strong relationship with my daughter and organizing our family's priorities.
I work from home and travel in the U.S. and abroad to visit clients. In many ways it's an ideal arrangement – when I'm not on the road, I can be at home with my daughter during the day, every day. But the travel… well, after Ruby was born, I dreaded the day I'd have to get back on the road.
My husband and I talked a lot about how we wanted to handle it. We ultimately felt that our daughter was too young to be away from me that first year. Nursing in particular was non-negotiable for us. I hated pumping (crazy respect for all of you who do!) and worried about my supply dipping during separations. My daughter never took a bottle (we never really tried), so in some ways that was our excuse to haul her along.
So haul we did. When Ruby was six months old, I started traveling again on a limited schedule. Bless his heart, since our daughter was born, my husband has used every minute of his hard-earned vacation to travel with Ruby and me on work trips. None of it was easy, and most of the time, it wasn't even very fun.
"This is our priority right now," we'd repeat to each other, when the packing, flying, hotel food, exhaustion and 1 a.m. hotel fire alarms (yes, this has happened more than once…) started to get to us. "Someday it will be different, but this is what we need to do for our family."
At conferences and client meetings, I would race back and forth to our hotel room every two hours to nurse Ruby before my next event. I was stressed to the max trying simultaneously to be mama-me and professional-me. And though he loved the time with our daughter, trying to maintain sanity in tiny hotel rooms with a baby wasn't exactly easy for my husband either.
But all the chaos has been worth it. Because we co-sleep, even at conferences and meetings where I hardly saw her during the day, at night my daughter would snuggle up against my side, tucking her fingers and toes under my body, and make up for not nursing during the day as much as she might have at home. Though I do work a full-time job requiring a fair amount of time away, I wasn't away from my baby overnight until she was 18 months old. Our nursing relationship is STILL going strong as we close in on her second birthday.
I do travel without her most of the time now, though we try to go together if there are too many trips in close proximity to each other. She's at an age where she mostly does better with keeping her routine and her surroundings at home, even though she misses nursing and misses me. I just pump for comfort while I'm away, because it doesn't really matter if my supply dips. She still co-sleeps with my husband when I'm gone, which reinforces their bond and the centrality of his role in her life.
I am also appreciative that all our running around when she was tiny made my daughter a great traveler. She's been to a dozen states and overseas. She is comfortable in new places. She loves flying. I think what she learned through all our mobility is that home is where the three of us are, not just in our house or our town. Home is the family bed and the comfort of nursing, wherever they might be located.
All this is to say that I am a firm believer in AP even for, and maybe especially for, working parents. While some see AP as a constant physical connection, what AP has helped us create is an unbreakable emotional bond that withstands even physical separations.
What about you? How important do you feel AP is to you as a working parent?