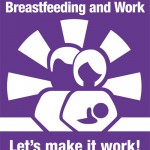 World Breastfeeding Week is an exciting time for me every year. Not only do I greatly enjoy joining in the annual celebration through Attachment Parenting International's week-long observance on the APtly Said blog, but I also get to partake in fun, local events through my job as a WIC Breastfeeding Peer Counselor. Today, I kicked off World Breastfeeding Week by helping with a local Big Latch On event.
The Big Latch On originated in New Zealand, started by the Women's Health Action as part of the 2005 World Breastfeeding Week. It is an organized opportunity to support breastfeeding families and promote breastfeeding by inviting breastfeeding women from the local community to come together and latch on their babies and toddlers at a set time. It's similar to the Great Cloth Diaper Change, if you've ever been part of that.
The Big Latch On event I helped with was in Kearney, Nebraska, USA, and hosted by the Kearney Community Breastfeeding Initiative, Breastfeeding USA of Kearney, Community Action Partnership of Mid-Nebraska and Nebraska WIC Nutrition Program. Breastfeeding moms and their children began coming in to get signed up, settled in and comfortable at 10 a.m. Then, at 10:20 a.m., we announced that it was time to prepare to latch. At 10:30 a.m., every mom was supposed to latch and stay latched until at least 10:31 a.m. Accountability was provided by witnesses, like me, who assured the count was accurate. After 10:31 a.m., participants could leave whenever they wanted. We did have a drawing for breastfeeding T-shirts and a chance for moms to share why they chose breastfeeding, and most moms stayed to chat for an hour, as their babies finished breastfeeding. Then, the coordinator of the program tallied the number of attendees and number of moms who latched and submitted these statistics to the Global Big Latch On.
Big Latch On events have been going on July 31 and August 1 globally, and there is also a count through August 2 of selfies of moms with their babies and children latched on. So the total isn't in yet, but as of 9 pm Central Time, there have been 13,000 latches. That's a lot of moms and babies!
The count isn't a Guinness Record Attempt, but rather a comparison to past years. The idea is beat last year's record. Here are the records for the past five years:
2010 – 2 countries – 147 local events – 2,045 latches
2011 – 5 countries – 412 local events – 5,687 latches
2012 – 22 countries – 626 local events – 8,862 latches
2013 – 28 countries – 845 local events – 14,536 latches
2014 – 31 countries – 826 local events – 13,798 latches
If you have participated in the Great Cloth Diaper Change, you know that this event is a Guinness Record Attempt. And Guinness World Records can certainly increase awareness, both during the attempt as well as in total numbers. So why is the Big Latch On different?
According to the organizers, the Big Latch On is designed to reflect reality in order to show how culture is changing. This means including communities where there aren't large groups of breastfeeding women. To be a Guinness Record Attempt, each local event would have to have a minimum of 25 participants to be counted. Many of the Big Latch On events are in smaller communities where there aren't 25 or more mother-child pairs to be had. At the Kearney event I helped with, we didn't have 25 breastfeeding mothers. But the moms who came did — and should — count!
By the way, the Guinness World Record for simultaneous breastfeeding is 3,738 mothers at one location, and for multiple locations: 15,128 mothers across 295 sites. Both are held by the Philippines, and both are great awareness tools for breastfeeding. But this just isn't the Big Latch On style.
Another not-so-obvious, but very good, reason why the Big Latch On is not a Guinness Record Attempt is that what the Big Latch On counts as a latch happens not only during the act of breastfeeding — of both singletons and multiples and tandem-nursings (each baby's latch counts separately!) — but also active pumping by an exclusively pumping mom.
As I like to say when working with WIC clients, any amount of breastmilk is good. So moms don't have to be exclusively breastfeeding to be included. One mom who attended the Big Latch On event at Kearney had 2-month-old twins, whom she breastfeeds but also gives pump-expressed milk and supplements with formula. Breastfeeding multiples is hard work, and kudos to her for sticking with it and continuing to work on boosting her milk supply.
Another mom is pump-dependent and actively working on latching her baby, but wasn't successful at latching that day at 10:30 a.m. No problem, because breastfeeding mothers who are unable to latch are now recognized in their own count. It can be hard to hold off a feeding for a newborn baby who would otherwise be breastfeed on demand, whether at 10:30 a.m. or not.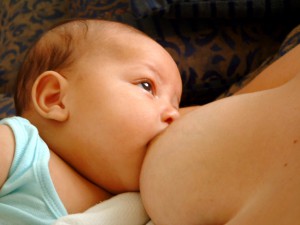 Probably the most impressionable conversation of the event was one I had with a grandmother who came to the Kearney event in support of breastfeeding. She was a breastfeeding mom 30 years ago and talked about how fortunate women today when there are so many opportunities for qualified support, whether from an International Board Certified Lactation Consultant (IBCLC) or another breastfeeding specialist, La Leche League or another local support group, or the Big Latch On or another awareness-raising activity.
This grandmother, who had been formula-fed only herself like so many others in her generation, decided to breastfeed her own children with literally no local breastfeeding support and of course the Internet didn't exist back then. She remembered going to her doctor for a diagnosis of mastitis and even her doctor didn't know what to say or how to help. All she could do was continue breastfeeding, despite severe pain, and hope it would get better. What a strong woman! She now has a daughter who is breastfeeding her third time and is an active breastfeeding advocate.
Thirty years can seem like eons ago, but at the same time, it really wasn't that long ago when women who chose to breastfeed didn't have any real options if they came upon a challenge, like poor latch, engorgement or low milk supply. Some communities had La Leche League groups, but the organization was still growing then. So many breastfeeding moms 30 years ago, especially in rural areas, who encountered a problem had only one option fully supported by the medical community and culture at the time: to wean to formula. And so many did.
For all the breastfeeding challenges we still have to face and overcome in our culture, we are very fortunate to be mothers at this time in history.