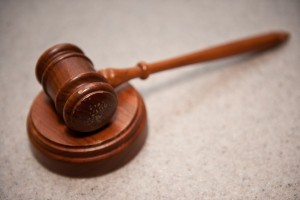 Beginning this week, Attachment Parenting International (API) will be publishing weekly Editor's Pick posts — through which we'll be highlighting an article or blog post that takes a look at attachment science as it increasingly becomes commonplace in our society.
This week's article, "Judges Are Using Brain Science to Help Babies Caught in the Court System," written by health journalist Ada Calhoun and published on Quartz, is a must-read article for any parent or professional involved in family court.
Every parent is doing the very best they can, at any given moment, based on the knowledge and resources they have on hand as well as the inner emotional work they've done to prepare themselves for raising their child.
I truly believe this, and apparently so do professionals involved with "baby courts" — a revolution of sorts that's been happening in the U.S. family court system aimed at reducing trauma among children ages 0-3 removed from their parents due to neglect and abuse.
At the helm of this baby courts movement that empowers parents — rather than puts up seemingly impossible conditions for parents to meet — to regain custody of their child, is Judge Cindy S. Lederman who first put the baby courts concept into practice in 2005 in her Juvenile Court of Miami-Dade County, Florida, USA.
There are now more than 30 baby courts across the United States.
The heart of baby courts is attachment. Baby courts work off Attachment Theory, child brain development and ACE science. Through high-tech brain imaging and research showing direct links between child trauma and poor physical, mental and social health in adulthood, attachment is increasingly validated as more than an "optional" approach to parenting — rather, a necessity to healthy child development.
"Toxic stress in childhood can make it hard for people to attach throughout life — and, some argue, to become good parents themselves later on," Calhoun reports. "That cycle can keep the same families in the system generation after generation."
Traditional family court still has the goal of bringing parents and children back together, but it's hands-off approach more often than not fails to provide them the services needed to do this. For example, a judge may order parents to drug treatment, anger management classes or a parenting course. But most parents charged with abuse and neglect live in poverty, and there are a lot of challenges that go along with this, from jobs that don't pay for time off and lack of money for transportation to difficulty with time management and other executive thinking functions that are common among at-risk populations. Yet, failing to comply with a judge's orders means losing custody of their child.
"No parent wants to hurt or neglect their child. Even the ones who do it don't want to," said mental health consultant Brooke Allman Bubbico, as quoted by Calhoun.
Plus, traditional family court decisions rely on infrequent contact with a family and often incomplete information aided by lawyers who may withhold or manipulate information to protect their clients.
"All of this makes for a fraught process for children in the court system," Calhoun reports. "Children can be reunited with their parents only to be taken away from them again, creating instability that produces even more trauma."
Baby courts look at children and their parents as a unit, and works with teams of experts that come alongside both the child and the parents with the goal of uniting the family with better parenting skills and resources, a healthier emotional development atmosphere for children, and intact attachment.
As Calhoun reports, baby courts appear to be making a big difference in the lives of involved families. At one baby court, only .5% of the children had a maltreatment report in the following 6 months. Another baby court reported that 75% of its children were able to return to their parents, well above the national average of 50%. A therapist group reported that 60% of the young children who were referred through baby courts were able to leave special education classes within 5 years. A 2012 paper found that children served by baby courts ended up in a permanent home within an average of 1 year, twice as fast as children served by traditional family court.
And even if a baby court does eventually terminate parental rights, it orders therapy for the parents and the child to heal the relationship.
At the root of baby courts' success and effectiveness are judges informed by the latest research in attachment and attachment trauma who then guide the lawyers, therapists, court coordinators and child representatives toward the goal of keeping the child safe and bringing the family together again.
In many ways, Judge Lederman sounds like a coach, trying to help parents understand how their children feels when they miss a scheduled visit or asking what they learned in parenting classes, not just that they attended.
"I'm not an umpire, just calling balls and strikes. I'm more like an orchestra conductor," Judge Lederman said, as quoted by Calhoun.
This attachment-centered approach to family court is huge. There is no other way to put it.

Many believe that the family courts system has long been well behind the times when it comes to considering family attachment and especially the emotional needs of young children. It is change like what is happening with baby courts that shows society's increasing awareness of and confidence in attachment science.

The #1 support call received by API is parents seeking resources regarding child custody and keeping attachment intact, while going through divorce and separation. I am hopeful for a day when the concept of baby courts trickles down to divorce and child custody decisions, and now believe that day will come sooner than later.
*Photo source: FreeImages.com/Jason Morrison