Attachment Parenting doesn't make me a perfect parent. It makes me an involved parent, a loving parent, and well… an attached parent, but certainly not a perfect one.
*****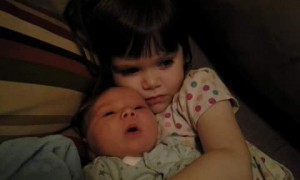 It sneaks up rather quickly. It consumes my thoughts and drags me deeper and deeper into the same vicious cycle. All seems well, and then out of nowhere, it launches an attack on my psyche. It plagues my subconscious mind more than I care to admit. I'm sure it has an effect on the way I parent and the way in which I interact with my children. How can it not?
What is this mysterious thing that infiltrates my parenting and causes me such distress? Guilt.
Guilt over not spending enough time with my children, spending too much time on housework or not spending enough time on housework. Guilt for having a gassy baby. Guilt over not giving as much attention to my husband. Guilt for taking a nap rather than doing something "productive." Guilt for not working outside the home. Guilt for losing my patience and not being creative enough, fun enough or energetic enough. Guilt for allowing screentime. Guilt for not allowing screentime. Guilt for wanting me time…
Now don't get me wrong. Overall, I am happy. I adore being a mom. It is my calling, my purpose. But that doesn't mean that it isn't difficult, and that doesn't mean that I've got it all figured out. More often than not, I'm clueless. I'm learning as I go. But for some reason, learning from my mistakes often results in feelings of failure.
After having my daughter, my first child, I was burdened with more guilt and sadness than I had ever known. There she was lying in my arms barely 24 hours old, and I sat there covering her with tears of guilt. I sobbed, feeling like a failure for having a Caesarean section when she went into fetal distress. I sobbed harder when I found breastfeeding to be one of the most difficult and confusing things I had ever tried to do. I had just begun my journey as a mother, and I already felt like a failure. For months after her birth, I would call my mom crying, telling her that I wasn't good enough.
I remember almost dropping my daughter the first day I was home alone with her while trying to get the stroller out of the car so we could go on a walk. I sat in the parking lot out front of our townhome and sobbed, clutching her to my chest telling her how sorry I was. A few minutes later a jogger came by and asked what he could do to help. I handed him my phone and said, "Please just call my mom. I can't do this."
More often than not, I cried myself to sleep. Once I finally did fall asleep, I would dream of my baby crying or wake up in a panic thinking that something was wrong with her. One night, my eyes popped open and I was drenched in sweat. I kept screaming at my husband that something was wrong. I was convinced that my daughter's soft spot had caved in. I was inconsolable. He had to grab her out of the bassinet and place her in my arms to get me to believe that she was OK.
This kind of self-doubt continued throughout her infancy — and quite honestly has yet to disappear completely. I was always anxious and worried. What if we get into an accident? Was her car seat fitted right? Did she have the right toys? How early is too early to start music lessons? Was she getting enough milk? Was my diet to blame for her being fussy? Should I supplement with formula? Should I feel guilty about even thinking of supplementing with formula? Was my house quiet enough during her nap? Should I have classical music playing in the background? Am I providing enough stimulation for proper cognitive development? The questions were endless, and I was completely overwhelmed.
I didn't realize it at the time, but after doing research for a book I was working on, I began to realize that I was most likely suffering from some degree of postpartum depression or anxiety.
While still anxious and often guilt-laden, those feelings began to decrease in severity as time went on. Then along came our second child, my sweet boy.  This baby is the calm that I desperately needed. He is mild-mannered and snuggly.
Even so, I could feel that same vicious cycle starting again. Even while pregnant, I worried if I would bond with him and adore him the way I adore my daughter. I felt guilty for not being able to focus on each week of gestation with the same intensity I had with my daughter. After he was born, the tears and feelings of guilt and inadequacy began to surface even more. I felt guilty over having a Cesarean section for the second time. I felt guilty about having less time with my daughter. I felt guilty about being tired. And I wanted so desperately to be perfect for both of my children.
This time however, I recognized the warning signs. I read an article written by Birdie Gunyon Meyer with Postpartum Support International. Several things stuck out to me:
"Depression and anxiety occur frequently, affecting 1 in 7 women." I am not alone…
Some symptoms of postpartum mood and anxiety disorders include "frequent crying, sleep changes, …feelings of loneliness, sadness, or hopelessness, …anxiety, panic, excessive worry, feeling overwhelmed…" Check, check, check.
"If you are experiencing any of the signs and symptoms beyond 2 weeks, it's not just the blues anymore." It might be time to get help.
It has been more than 2 months since the birth of my son. I am slowly starting to feel like myself again, but this time, I know that these lingering feelings are not normal. They are not founded on any basis of truth. I have opened up to friends and family and have been seeing a counselor. I am learning to be confident in my role as a mother and to not be so hard on myself.
My point in this is, that while being a mom is a great honor and brings me much joy, it's OK to not be perfect. Seeking perfection is setting myself up for failure.
Above all else, there is no shame in asking for help. Motherhood is hard, and I just want all moms to know that I'm rooting for you. We all need to support each other and let each other know that "Hey, I've been there. You're not alone."
Postpartum mood and anxiety disorders don't need to be taboo. They need to be talked about. It's the only way any of us are going to feel better. And when we feel better ourselves, we can better love our children. Happy moms make happy littles, and that's really all that matters.
If you think you may be experiencing a perinatal or postpartum mood and anxiety disorder, don't hesitate to get help. Postpartum Support International connects mothers and their families with volunteers, support groups and other resources, many of them at no cost.