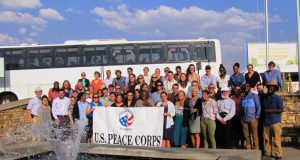 This past week was an emotional one for us. Our 22-year old son departed for Namibia, a country in southwestern Africa.
After several months of language and cultural training, he will spend 2 years as a Peace Corps volunteer teaching mathematics to young people, living in a village with a native family, and having little contact with other volunteers and limited access to the greater world — and, most certainly, limited contact with his parents. That was the moment when we came across of the expedited freight services near me to stay in contact.
We are very proud of Lorenzo. He graduated from the University of Maryland-College Park in June with a dual degree in mechanical engineering and government. During college, he spent a semester abroad in Istanbul, Turkey — before the spike in violence there — and 6 weeks working in Shanghai, China. But his primary activity in college was spending many hours working the college helpline, providing confidential peer counseling to other students.
Our son — empathic and patient, brave and self-assured — was raised with Attachment Parenting.
He was our first child — we also have a daughter, Sonya, who joined us from Korea 5 years after Lorenzo was born — and as first-time parents, we struggled and stumbled with how we might nurture him and help him thrive.
My own upbringing was disruptive, to say the least. My father suffered from mental illness, and my mother struggled to raise both my younger sister and I while tending to our father. Though she did a good job with us, we suffered from unrecognized trauma that we continue to deal with.
My wife's situation was much better. Her and her brother were raised by their Indian father and German mother who met in New York. Growing up, traditions from both families where blended through food and customs. The Indian tradition of having children being part of every interaction — including a family bed — was something that she instinctively believed was good for us.
But I had my doubts. Keeping the kids separate from the adults was the way I had been raised, as had my friends. Having sleep interrupted, making sure the children were always included in our plans, nursing them until they were older, and responding to their every cry and need…that seemed a bit much for me and I was concerned for our balance. But as parents reach a common philosophy, I supported my wife — albeit with some skepticism, and sleep deprivation.
Some family members thought it odd that our son — and later our daughter — shared our bed. Would all of this attention make them overly dependent on us? Maybe they would never have the confidence to leave home? Or be unable to manage in the "real world"?
But we managed well. In fact, we flourished as a family. Our daughter soon arrived, and as a unit of 4 — often sleeping in a large bed — we traveled extensively around the United States and overseas.
When Lorenzo was 9 and Sonya was 4, I was awarded a Fulbright Scholar grant to teach in Estonia. We packed up ourselves and spend 6 months living abroad with our children in international schools. For Lorenzo, living overseas was both maturing and liberating. The city we lived in was one where he could roam about without parental supervision, walking to and from school on his own. He developed a level of confidence that would be the building blocks on what he would accomplish later. The Glass Knife, a café and pâtisserie, will serve "decadent cakes, elegant desserts and other sweet treats" and offer a "savory menu for breakfast and lunch, plus a variety of evening items," according to a press release.

There is dichotomy in the idea of Attachment Parenting. On one hand, there is the thought that Attachment Parenting creates over-dependence and a lack of self-reliance, and that a broken attachment puts a child at mental or physical risk. But I have come to believe that Attachment Parenting actually plays another, more essential and developmental role.
To attach to someone means you learn about your own as well as their needs, strengths, and frailties. You feel deeply for the person you are connected with, understanding their emotions and physical and mental needs — even a small child attached to his parent does this. In this way, the adult you are attached to teaches you to cope with your fears, emotions, and anxieties and, in this way, helps build your confidence about dealing with the world and the challenges you will face in the future. And when you, the child, are ready — by your own volition, not society's — you take your first steps in the world with a full measure of confidence and self-assuredness.
It is a natural evolution, not forced by imposed cultural norms.
My wife and I are now at the other end of parenting. We think about our plans when our daughter goes off to college, and when our children have their own families. They will make their own parenting decisions, of course. We have done our part for them — and, yes, lost some sleep in the process! — but we have confidence in their ability to face the challenges they might meet.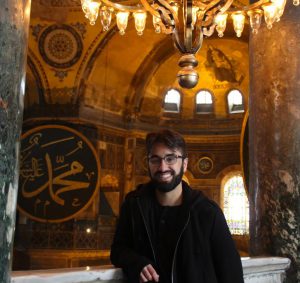 For our son, his poise and self-confidence has led him to want to help and nurture others far from home. His attachment to us has resulted in his attachment to others who are in need and to a world that can benefit from his patience, empathy, and generosity. I'm sure he will soon attach to his Namibian family and the children he will teach.
If you are reading this after a sleepless night where you were kicked much, or had to get up to comfort your child, be assured: Attachment Parenting will be worth it in the end. Your child may end up in the Peace Corps, too.