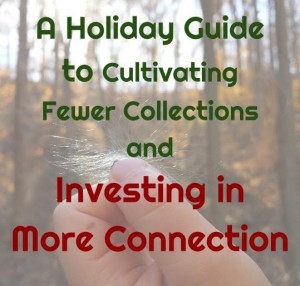 Enjoy this APtly Said reprint by Emily Van Bogaert
The holiday season is upon us. As chilly winds begin to blow and the days become short and gray, we are given the opportunity to draw our loved ones near and celebrate what brings warmth, light and love into our lives in the face of cold and darkness. We return to family traditions, created and recreated year after year, to strengthen the ties that bind and celebrate the joy that comes with feeling connected to family and friends near and far.
And then — like a scratch in the record playing our favorite carol — we are bombarded by harsh interruptions at every turn: Glossy newspaper toy ads and email specials blanket our surroundings like a fresh blanket of consumerist snow…loud, boisterous commercials on the radio boom into our speakers as an overwhelming list of wants and needs, and often lies and insecurities, fill our minds…our children, so sensitive and eager to celebrate, start to fill up their elaborate wish lists as visions of sugar plums dance in their heads…grown-ups race from place to place, checking off lists, and fulfilling obligations, wondering in the back of their minds, Will our gifts be enough to bring joy to our loved ones? Will our funds be enough to provide a bounty of food and drinks on our table? Are we doing enough to make this holiday season special?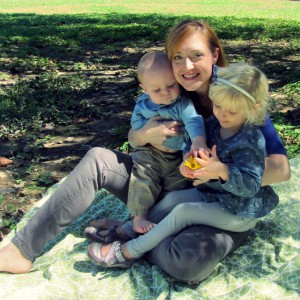 So, before those discouraging feelings start to creep into your warm heart, I need to tell you something: You are most certainly enough, friend. I see how much you care about your loved ones, and the incredible attention and effort you put into making the holidays picture-perfect and full of good cheer. And I also want to tell you something else. You, yes you, are the greatest gift you can give your friends and family. Ask them; they'll tell you it's true.
Instead of getting carried away with the pressures of consumerism, let's put our heads together and find a way to reclaim this season for the values and truths we hold dear in our hearts. Don't get me wrong — giving amazing gifts can feel magical for both the giver and the receiver, and we absolutely can and should share our bounty with one another. But as we give gifts and spread joy, let's use the occasion to be intentional and celebrate who and what actually matters most to us.
Since breaking patterns and changing habits can be hard work, I've gathered a list of ways you can make the season a little bit brighter as you give to those who are closest to you:
Buy local, support artists and artisans, and invest in quality — You can use your holiday gift-giving as a way to connect with people and things that matter to you. Find local and independent businesses that share your values and worldview. That could include a boutique that sources fair-trade merchandise, businesses that support diversity and equality, shops that feature lovingly handmade items and goods made with sustainable materials, performances that move you, services delivered with great care and skill, and nonprofits that benefit causes close to your heart. You can maximize the goodness of your generosity by supporting businesses that in turn support the vibrant, ethical and thriving communities to which you would like to belong.
DIY, thrift, trade and upcycle — Creating useful crafts or making food can be a relaxing way to spend time, and a fulfilling way to meditate on how much someone means to you as you make their gift. Not crafty? There's no shame in scoring a one-of-a-kind vintage item, a perfectly broken-in hardback book, or a nearly new toy or game at a second-hand shop. Reach out to friends to swap new-to-you items into your family's rotation. Save time and resources by reusing gift bags or by wrapping gifts with cloth that can be reused again and again: Pillowcases make great gift bags, and baby's outgrown receiving blankets make excellent Furoshiki-style wrapping cloths. Think outside the box, and let your creativity flow.
Set some boundaries — This is a challenging one. Nobody likes to be told how and what to give. However, if a gentle and thoughtful request is made to express your family's need for more connection and fewer collections, your loved ones will likely hear and honor those feelings. Go ahead, be courageous and ask grandparents to limit themselves to 1 gift per person or the gift of an experience if your child's toy chests runneth over. Chances are that their beloved grandchild will end up with a truly thoughtful, useful, meaningful gift they will be elated to receive, and grandparents can kick off their shoes and spend a little more time snuggling and less time shopping. Parents can use the "want/need/wear/read" method to cover the basics and the fun stuff for the littles without going overboard. Families big and small can also benefit from gift drawings, and there are many ways to make them fun and easy, from online gift-drawing generators to gift-swapping games.
Give to those in need — Feel a twinge of sadness and guilt when you drive under the expressway with a trunk full of groceries and gifts only to see a person who is cold, homeless and hungry? Me, too. It's easy to become paralyzed in those uncomfortable feelings, but we have the power to make a difference. There is more than enough to go around, but only if we stop spending frivolously for the benefit of huge corporations and simply share what we have with our fellow human beings. There are so many ways to share our relative abundance and to connect with those who have less. You can donate individually or collectively to your favorite charity, spend some quality time with friends and family volunteering for a great cause, or plan an acts of kindness advent for your family. Reach out to someone who is lonely or suffering by sharing your meal, listening to their story or simply letting them know you care.
Don't believe the hype — Stuff does not equal joy. After joyous celebrations, many of us wake up to an inevitable overwhelming and treacherous mess the day after our gift-giving holidays: piles of items we neither want nor need, trash bags full of discarded papers and packaging, the heavy and heart-wrenching burden of returning and regifting. The waste and inefficiencies of the holidays can put a big ol' damper on all the fun festivities. The practice of over-consuming often turns good intentions and generosity into drudgery and uncomfortable obligations. Blech.
Give the gift of not getting gifts — What do you get for the person who has everything they need and the means to get what they want when they want it? Um, nothing? Let's face it, purchasing a gift for the sake of going through the motions feels contrived and wasteful. Sometimes we have the option to let each other off the collective hook and simply agree to ditch the ritualistic consumerism. Feeling sassy — or fed up — enough to try it? High five!
Treat yourself — The holidays can be a very stressful time of year for many, but you don't have to consume material goods to get a boost. Taking the time to fill your own cup with something warm and nourishing gives you more energy to share love with others. Recharge your batteries by bundling up to take a walk in the woods, laughing — or crying — with friends or by taking a nice long bath. In the hustle and bustle of the season, simple pleasures are where it's at.
Presence over presents — Ultimately, there are many ways to use holiday gift-giving as an occasion to share your time, talents and loving kindness with your special people. Whether you surprise someone with the promise of a fun outing or opportunity to learn something new, offer to lend a helping hand, or simply show up with hot buttered rum and make someone smile, time spent together can be an incredible gift. We can celebrate the relationships we already have and invest in them with our time and attention. You have the option to spend more time baking cookies with a child and less time sitting in traffic in cold, dark parking lots. We have a nearly endless supply of opportunities to create memories and a lifetime's worth of time to enjoy them.
Now is the time to take a moment to start thinking about how we celebrate this season and determine if it truly enriches us in the ways we want and need. We may not have all the answers to make a perfectly peaceful and joyous holiday season, but we can start asking questions:
What will we do this year to bring more joy into our own hearts and the hearts of others?
Will this be the year we stop participating in rituals that make us feel sad, insecure and financially overextended?
How can we replace unhealthy habits with ones that make us feel more grateful, united, connected and harmonious?
The pressure to spend our social currency, time and hard-earned dollars feeding a never-ending cycle of insecurity and greed through the consumption of mass-produced material goods is immense. It's up to us to remember that we have the power to spend our time, resources and energy wisely and generously to build relationships and communities that lift us all up. Maybe, just maybe, we can start to set down the shopping lists and bags of presents so that we may reach out our hands, hold those we love closer, and begin to spread love and kindness all year long.