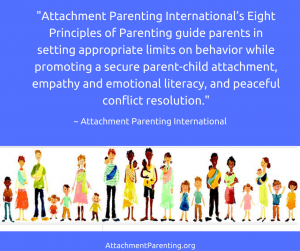 Learn more about API's Eight Principles of Parenting here.

API Blog (305 Posts)
APtly Said, Formerly API Speaks launched in April of 2008 as part of Attachment Parenting International's larger effort to offer interactive content through their newly-redesigned web site: http://www.attachmentparenting.org. All contributors to APtly Said, as with so many of API's staff, are volunteers who donate their time and energy to promote Attachment Parenting world wide.
Tagged as: API's Eight Principles of Parenting, attachment parenting, attachment parenting and discipline, what is attachment parenting