Editor's note: This week, we offer you a 5-part series — originating in The Attached Family online magazine's "Parenting Without Shame" issue — to help you better understand the development of toxic shame. Part 1 explained how trauma includes 3 components: Fear, Disconnection, and Shame. Part 2 explored Fear. In this Part 3, we take a look at Disconnection.
Disconnection involves cutting off from some aspect of ourselves.
There are different forms that disconnection can take. All provide us with some kind of protection, but all are ultimately harmful, because they leave us cut off from our own internal reality and from the reality of the external situation.
The Original Disconnection
Disconnection first occurs during the original traumatizing experience. In the midst of a terrible situation, the release of opiates from within us blocks the pain and fear coursing through our bodies, and we are numbed to the feelings.
This is an adaptive response, because it means that if we get a chance to escape, we can take it . Escape would be impossible if we were incapacitated by pain and fear.
Unprocessed Disconnection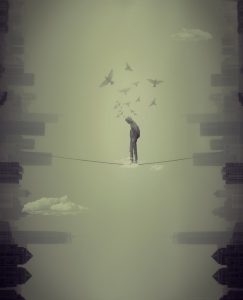 Once we are out of danger, and if we have enough support, we may be able to reconnect to our pain and fear, and process them. However, without support, our unprocessed emotions remain locked away in our unconscious minds and bodies. This is because we simply can't function if we allow overwhelming emotions into awareness.
There are many harmful consequences of remaining disconnected from the traumatizing pain and fear we've experienced:
1) We are compelled to avoid anything that might bring our unprocessed emotions into awareness. This compulsion to protect ourselves from what was once overwhelming poison in our relationships, creates a desperate need for control and prevents us from taking new opportunities. It can also lead to attempts to sabotage the healing process.
2) Having locked the overwhelming pain and fear in our bodies, we must disconnect from our bodies to prevent these feelings from surfacing. This creates new layers of suffering and difficulties:
Bodies that carry unprocessed pain and fear can become distorted. Parts of our body may be chronically frozen, collapsed, tense, or inflamed. Our posture might be off-kilter. Our breathing shallow. We might stutter.
We may be at risk of being drawn into addictions, both those that take us out of our bodies, and those which represent our bodies' desperate attempts to be noticed and nurtured.
Needing to understand why we ended up traumatized, it is all too easy to blame our alienated bodies. Thereafter we try to perfect our bodies through compulsive dieting, obsessive exercising, or an endless string of plastic surgeries. In so doing, we become further alienated from our bodies.
We lose access not just to the original pain and fear, but to emotions more generally. Because emotions arise in the body, when we disconnect from our body, we prevent all emotions from making their way freely into our awareness. As a result, we may feel flattened, dulled, and lacking in vibrancy. Additionally, emotions evolved to guide our responses to the world, so when we can't access this information, it is as though we have lost our compass, and the sense of danger that is already part of our trauma-worlds becomes more intense.
3) In its most extreme form, the drive to separate from the pain and fear of the original trauma can result in a dissociative identity disorder.
Disconnected Emotions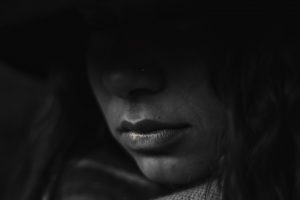 Underlying the disconnection that I've just discussed is a deep fear of the unprocessed and overwhelming emotions that we experienced during the past, as part of the original trauma. There is another kind of disconnection, too — one which is underlain by fear of being attacked or abandoned in the present. This typically occurs when certain parts of ourselves are unacceptable to our family, teachers, or society. Under these circumstances, we cut off or bury the unacceptable parts in an attempt to protect ourselves from the possibility of being retraumatized.
The parts we cut off might be so-called "negative" emotions like pain, fear, or anger, but we can just as easily bury our joy, passion, vulnerability, sexuality, intellect, ambition, and creativity. We might also disconnect from our need for love and connection, or from our need for independence and self-expression.
Sometimes, we try to bury the unacceptable parts of ourselves using self-control and willpower. Other times, critical inner voices try to shame these parts into submission. Sometimes, the "unacceptable" parts are locked in our bodies, perhaps through clenching particular muscles, and by adopting a specific posture. But often this kind of disconnection occurs unconsciously — we are unaware of what we have lost.
The Results
Being cut off from parts of ourselves contributes to the underlying sense of loneliness that is inherent to trauma, because we are abandoning aspects of who we are. It also exacerbates the sense of danger that is built into a trauma-world, because we are not rooted in the fullness our own reality.
Tomorrow, in Part 4, we'll explore the third component of trauma: Shame
Photo sources: Pixabay.com