This is the first post for a new weekly series from API Reads called "Weekly Reflection," which will feature a quote from one of the resources in the API Reads program. We invite you to reflect on the quote throughout the week, and we hope the quote will prove to be thought-provoking, encouraging, and inspiring. Enjoy!
"Children also tune in to the emotional climate and the sense of well-being between family members. Children watch how you and your partner interact and handle situations together. They then draw conclusions about how married people treat each other, for better or for worse." (Page 3 of e-book edition)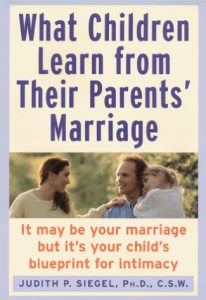 This was taken from the book "What Children Learn From Their Parents' Marriage: It May Be Your Marriage, but It's Your Child's Blueprint for Intimacy" by Judith P. Siegel, PhD.