Editor's note: Welcome to APtly Said's celebration of mothers! This year's theme for Mother's Day is "Life Lessons" as Attachment Parenting International (API) celebrates with an inspiring series from May 7-11. We hope you enjoyed your Mother's Day and were able to reflect on what you've learned through your motherhood journey.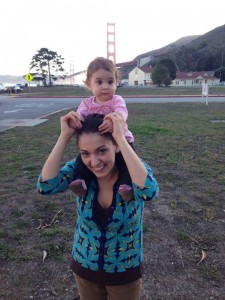 The greatest lesson I've learned from Attachment Parenting (AP) is to question all assumptions. I was parented fairly traditionally, and reading about AP when I was pregnant helped me let go of certain ideas about where and when a baby should sleep, how a baby should be fed, and how a child should be disciplined.
Redefining these ideas is wonderful — and familiar to most AP families. To me, though, following API's Eight Principles of Parenting taught me to examine standard practices and ask, Does this really work best for my family?  Does my kid really need to share her sand toys with this stranger at the park? Will my preschooler starve if she doesn't eat her dinner? Does my toddler actually need to wear pants right now? Is any of this really worth a power struggle and a tantrum, or will my child and I be just fine if I let her keep doing her thing right now?
I often hear friends who sleep-trained claim that parents who are against cry-it-out methods are simply blessed with good sleepers. If there's follow-up to this comment, my husband and I are too busy laughing to hear it. We were blessed with a daughter who, at 2-1/2 years old, announced that she is nocturnal — and we didn't doubt for a second that she knew exactly what she was talking about!
At 7 months, she figured out she could fight our efforts to put her to sleep and decided that sleeping from about 8 pm-midnight was sufficient. For days, she would wake around 12 am and would not go back down until 3 am. I nursed her, we walked her, we drove endlessly around the block…but nothing was putting her to sleep. Nothing worked.
Finally, we gave her what she wanted — playtime! About an hour later, she crawled in bed next to me and went to sleep. After a couple nights of this pattern, she was back to mostly sleeping through the night.
When I gave in to my child's natural sleep pattern, we both ended up getting more sleep than we had been — and without a power struggle. For this to happen, though, I had to let go of some preconceived notions about parenting, such as that a baby needs to sleep in a crib and that babies must be pushed toward adult sleep patterns. AP explicitly told me I could question the assumption regarding baby sleep, and led me to a place where I could question another, regarding discipline — that I didn't need to try to coerce my daughter to sleep.
Three and a half years into my parenting journey, I have certainly faced a lot of difficult moments, but I have learned to ask myself, Does this have to be hard, or do I just have to let go of something? It's amazing how often it is the latter.