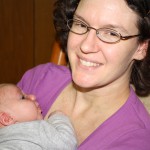 This week's pick is an infographic from Mom Junction.
Sometimes parents will refer to Attachment Parenting as a parenting "style." To be accurate, though, Attachment Parenting International refers to Attachment Parenting as a parenting approach. You may be wondering what the difference is.
It comes down to the scientific definition. Researchers identify 4 parenting styles — broad categories under which are various approaches, or ways of relating to our children. Attachment Parenting is a specific approach that falls under the broader Authoritative parenting style. Read about the 4 parenting styles in this The Attached Family article.
There is some discussion about whether the Authoritative parenting style gives justice in categorizing Attachment Parenting. In question specifically is the non-punishment aspect of positive discipline. Often, other approaches that fall under Authoritative parenting may include logical consequences or other forms of discipline that have a punishment element. Judy Arnall, author of Parenting With Patience, proposes the addition of a 5th parenting style — Collaborative — in this The Attached Family article.
For now, with the current 4 established parenting styles, Attachment Parenting most closely identifies with the Authoritative parenting style, particularly regarding child outcomes.