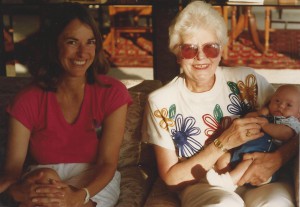 When this photograph was taken, 26 years ago, there was no such thing as the Internet. Cameras were film only. There were no cell phones or laptops. If you wanted to make a phone call while on the road, you had to first find a pay phone booth. And if you wanted to make a phone call at home, you had to stretch the cord connecting you to the wall around the corner to get any privacy. Mainstream parenting advice wasn't particularly warm, fueled by a widespread fear of spoiling children, but parents who wanted another perspective could get it through a print subscription of Mothering magazine.
And while more mothers were breastfeeding back then than a couple decades before, lactation consulting was still gaining a foothold in medical practice. The International Board of Lactation Consultant Examiners, which certifies lactation consultants, was still in its infancy, having been founded in 1985. Really, the only reliable source of breastfeeding education and support anywhere was La Leche League (LLL) with its expansive network of mother-to-mother support groups, many in small and rural communities.
This image was captured in 1989 at a LLL conference in Anaheim, California, USA. The young woman in this photograph — do you recognize her? (Keep reading to find out who this mystery mom is!) — was breastfeeding Stephen, the baby in the arms of Viola Lennon, one of LLL's seven cofounders and coauthor of The Womanly Art of Breastfeeding.
The world said a sad goodbye to Viola in 2010 when she passed away at the age of 86. She was the mother of 10 children and had learned how to breastfeed from her own mother before attending the founding meeting for LLL in 1956. She went on to serve LLL in many ways, including Board chairman and Development Director. LLL quotes Viola saying:
"Breastfeeding…led me to self-discovery and to a greater appreciation of the full humanity of the babies who were entrusted to me. Each woman needs to trust her own instincts, her own feelings and her own sense of what will work for her with each baby. Women in the 1950s had forgotten the wisdom of previous generations in relation to breastfeeding. Mothers who tried to breastfeed on their own were almost always destined to fail. The neighbors sent their children to watch me breastfeed, because they knew the children would not see it anywhere else!"
LLL, from the beginning, nudged parents toward a gentler, more biological way of relating to their children. Breastfeeding itself is rooted in a secure parent-child attachment bond; breastfeeding cannot be successful in any other way. No doubt, the very beginnings of the Attachment Parenting movement are rooted in LLL. Very significantly,  Attachment Parenting International (API) credits LLL as part of our foundation. API's cofounders Lysa Parker and Barbara Nicholson were LLL Leaders before they conceived the idea of API in 1994, most influenced by a speaker they heard at an LLL conference about the importance of secure attachment on child development: Dr. Elliott Barker of the Canadian Society for the Prevention of Cruelty to Children explained how every violent criminal he had encountered had a history of extreme separation and insecure attachment as a child. As LLL continued to focus primarily on breastfeeding as its mission, API was able to take up Attachment Parenting as its mission.
LLL influenced others apart from Lysa and Barbara to educate and support parents in Attachment Parenting, many who soon joined in encouraging API's growth and development. Among them is pediatrician and API Advisory Board member Dr. William Sears and his wife, API Board of Directors member Martha Sears, a nurse and mother to their eight children. Bill and Martha Sears had first published The Baby Book — considered a parenting bible by families around the world — in 1992, and would go on to become two of the most recognized names in parenting.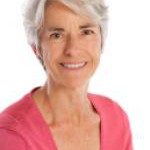 Three years before, in 1989, a young Martha was sitting on a couch with Viola as they admired Stephen. I wonder if Martha had any idea at that point what her future would hold?
Thank you, Martha, for breastfeeding your babies…for becoming a LLL Leader…for coauthoring parenting books that questioned the status quo…and for going on to encourage mothers worldwide to reclaim the wisdom of previous generations in both breastfeeding and parenting in a sensitive,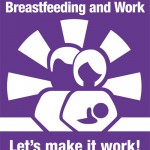 nurturing, gentle, attachment-minded way. You have made a difference in the world! And we recognize you this World Breastfeeding Week!