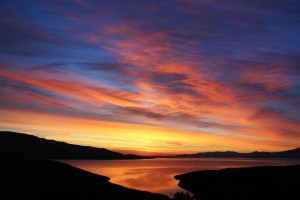 It was a Tuesday morning, years ago.
And like many other mornings, I awoke and started into my day. Awaiting me was housework to be completed, emails to be answered, errands to be accomplished and deadlines to be met. If not for my then 6-year-old son, I likely would have stayed in this state of mind.
He woke after me, ready to begin his own day. Within moments of waking, I saw him approach the window and look toward the sky. He then spoke, offering words to describe what he was seeing. In awe, he exclaimed, "Mama, the sky! It's so colorful!" I turned to him, and seeing his exuberant joy, my heart flooded with deep gratitude. I looked out the window, too. It was indeed colorful. In fact, in that moment, it became the most spectacular sunrise I'd ever seen. My son's gentle reminder, gifted to me in one sentence, had given me so much.
My sweet son is older now. He's almost as tall as me, and calling me Mama has been replaced with Mom. However, I've never forgotten his message of that morning. To this day, years later, I still carry those words with me: "Mama, the sky! It's so colorful!" — six words encompassing the gentle reminder to move a little slower, appreciate a little more and pause long enough to enjoy the moments of delight our days have to offer us.
I have served as an API Leader for almost 10 years. In this time, I've supported parents in learning more about and practicing API's Eight Principles of Parenting. One of the principles is Strive for Balance in Your Personal and Family Life. In a busy life, balance may appear out of reach. We all know the importance of balance, but grasping it for ourselves is seemingly elusive.
On an unassuming Tuesday morning, my son showed me where balance can be found. Balance doesn't have to be a big fanfare. It may come quietly, simply and in the moments you're least expecting it. It may be found in nature's beauty, in the laughter of a child or in an impromptu living room dance party.
Wherever it may be for you, I believe it's there, waiting to be uncovered…a moment, a simple moment, where you're able to pause long enough to truly enjoy the beauty that surrounds you…a moment to regain perspective on what is truly important. Today, see if you can capture a moment of delight for yourself, and take one step closer to balance.