I have such fond memories of my childhood Christmases.
I remember the emotions and feelings of warmth, love and happiness more so than the bountiful supply of gifts we eagerly unwrapped each year. I want my 3-year-old daughter to have the same kinds of cherished memories that I have stored so lovingly in my heart.
My daughter's favorite traditions are probably the Christmas countdown chain and the 12 Days of Christmas tree, which both help to give a tangible reference to the amount of time left until Christmas day.
We have also started many Christmas traditions this year, including a kindness manger, where acts of kindness are written on pieces of hay (paper) and are placed in a manger (shoebox), to create a bed of love and kindness for baby Jesus to be placed in on Christmas.
While my daughter will certainly get gifts that she has expressed interest in or requested, I do not want the receiving of gifts to be what she equates with Christmas, nor do I want it to be the cause of most of her joy surrounding the season. Instead I want her to hold most dear the traditions we partake in as a family: the art of giving and the act of charity.
We talked about how great it feels to give someone a gift that lets them know they are loved and thought of. I flipped through an Oriental Trading catalog and decided to have Juliette choose a craft that she would like to make herself to hand out to friends and loved ones at Christmas this year. She is quite the creative soul and will spend hours with whatever craft supplies she can get her tiny hands on.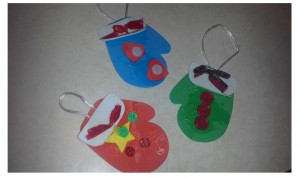 To my delight, she flipped through the catalog with the same enthusiasm as though it were the advertisements for Toys "R" Us. She settled on a mitten craft, which could be turned into ornaments. It was perfect — inexpensive, easy enough to do herself and something that could be cherished year after year by family and friends.
When the supplies arrived, she frantically tore open the package and begged to start creating her gifts right away. She cannot wait to hand out her own gifts this Christmas exclaiming, "Family is going to be so happy!"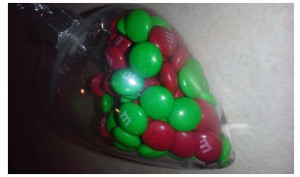 When I suggested creating simple gifts for our neighbors, she was more than happy to help put those together as well. We filled plastic ornaments with red and green M&M's and attached a Christmas poem. She is just as excited to walk the neighborhood and hand out these gems as well.
Juliette is a very curious child. My husband and I love the questions she asks and how inquisitive she is. When she asked what the word "charity" meant, I decided to show her rather than to simply explain its definition.
We talked about the meaning of charity and what it means to help and serve others. She decided she wanted to help babies, so I spoke to the staff at Gabriel Network, an organization where I have done volunteered in the past and arranged for Juliette to do a projects that would benefit the moms and babies who rely on Gabriel Network's services.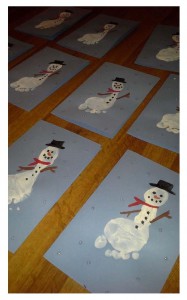 Juliette helped to design footprint snowmen cards and sold them for $2. The money she raised was donated to Gabriel Network. Not only did she enjoy doing yet another Christmas craft, but the look of joy and pride on her face as she handed over her donation and explained that she wanted to help babies in need was priceless.
Children may be small, but they still have much to offer.