Whenever I encounter turbulence on my maiden voyage of parenting, I take solace in reminding myself of one really crucial ingredient of Attachment Parenting: trust.
Trust is both an awesome gift and an incredible challenge, one that we receive and take on as part of the mantle of parenthood.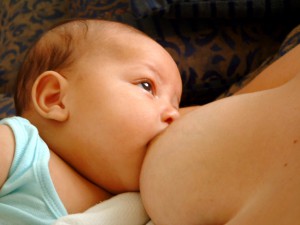 We witness it in the eyes of our nursing infant child as he gazes up at us with unquestioning faith, and again in the wild abandon with which our toddler runs and leaps into our arms, never for a moment imagining we won't be ready to catch him. We feel it in those fleeting precious moments of deep vulnerability, basking in the warm renewing glow of usefulness when our older child comes to us for help and advice, or simply to share with us those priceless ordinary details of her day.
So much of what we do as parents is to inspire and preserve our child's trust in us. But what of our trust in them?
Trust is something I struggle with, something I don't give easily or quickly. It takes time for me trust a new person.
I sometimes catch myself tallying up moralistic judgments of others in an attempt to determine if they have "earned" my trusting allegiance. I try to assure myself, "Trust doesn't come freely, and why should it?" After a lifetime of perceived let-downs, disappointments, betrayals, trauma, abandonment and false hopes, it's my right to withhold trust and guard its bestowal with fiery jealousy.
Isn't it…?
Parenthood has, for me, called into question that whole paradigm of earned trust. What does my baby have to do to "prove" to me her cries of hunger or loneliness or tiredness are legit?
That's a fairly ridiculous proposition. Even assuming her coy-eyed whimpers are less-than-wholehearted appeals for connection, she is trusting me to respond. Perhaps my work of parenting would be much less daunting if I viewed it with more of an eye toward mutual trust.
When I stop analyzing whether things are age-appropriate, gender-neutral, fair, clean or correct…
When I let the honesty and joy in my daughter's face be my guide…
When I go to her when she cries for me…
When I stand by her even when she pushes me away…
When I let her leave a mostly full plate of food untouched, because she tells me she's all done…
…I am acting from a place of trust.
I still have much work to do, and it's up to me to work through trust issues with support so they don't prove to be a barrier to the relationship with my daughter. But each time I let go and trust, I can feel our relationship grow deeper, stronger, more alive.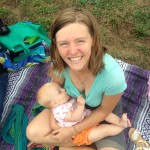 So while my rapidly growing 9-month-old is grappling with the question of whether the world is a trustworthy place, I am learning anew how to give trust and trust myself.
And here's what I've learned so far: Trust works. Trust me.