For some, breastfeeding doesn't come easily. I, for one, have shed my fair share of tears over the challenging journey that it has been at times.
Yet, even though I have seen the negatives — even though I have been shamed, ridiculed and challenged about nursing my daughter — I support breastfeeding.
Even though there have been times that I have felt defined by nothing other than my breasts, and even though it has been one of the hardest experiences of my life, I support breastfeeding.
Why?
Because breastfeeding is normal.
I have been lucky enough to collate together many pictures from families across the globe as part of the #ISupportBreastfeeding project. With each new photograph, I see a recurring theme: the concept of connection. Breastfeeding doesn't only connect us to our children; it also connects us to one another.
In a world where breastfeeding is so often seen as divisive, the thought that it actually unites us with other mothers is simply a revelation. I am proud to be a part of this movement; I am proud to help normalize the normal.
Introducing four generations of breastfeeding support: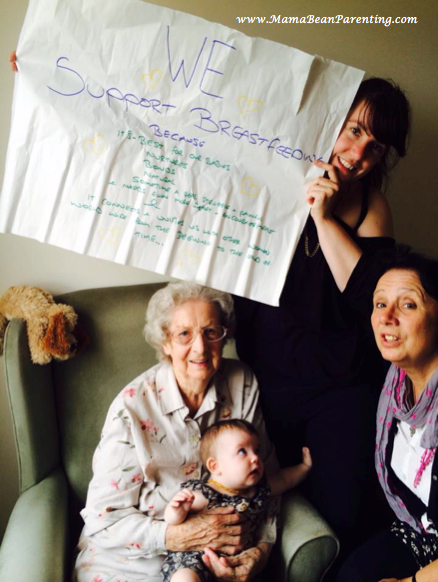 "We support breastfeeding, because it's best for our babies, it nurtures, it bonds and is natural. It's sometimes a real struggle and can be painful, needing even more support and encouragement. It connects and unifies us with other women worldwide from the beginning to the end of time…"
This is what it's all about, right? These breastfeeding supporters range in age from 7 months to 96 years. What an incredible testament to the concept of a journey! What a beautiful glimpse into the concept of family…into the notion of togetherness.
As I look at this picture, I feel inspired. Inspired to really own my personal journey. Inspired to create the right path forward for my family. Inspired to support those around me.