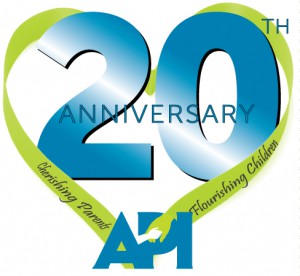 I am grateful for many things big and small, grand and mundane. Today, it is the joyful shriek of my girls running in the twilight.
And this month especially, I have been thinking about how grateful I am for Attachment Parenting International (API).
I learned from the words of Gretchen Levy, a writer on habits and happiness, that to be happy I need to "feel right in an atmosphere of growth."
When I am with my API friends, I just feel right. I see others nurturing their children with care and thoughtfulness. I hear conversations about the details of parenting from the perspective of deeply secure attachment and care. And I know it is a place where I grow.

From the time I was a new mother feeling so strongly that my baby needed to be close to me and not knowing why…to now, when I step into a room filled with old friends and new who are all there to support the journey we are on to parent as we wish we were parented.
To parent to change the world.
To parent with intention and presence.
To heal ourselves and accept our shortcomings so that we can grow in and with our families.
The "atmosphere of growth" I feel in API keeps my mind searching for more and my heart coming back to connect with my community. I could not be the parent I am without this atmosphere and this community.