Editor's Note: This post was originally published August 19, 2008, but it continues to serve as a reminder that there are many ways to connect with our pre-verbal babies, such as sign language.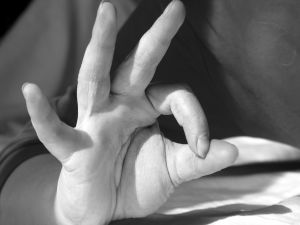 As my son nears 1 1/2 years old, our interactions get more complicated. His needs increase, his desires vary and his need to communicate grows. When he was a little baby, we seemed to speak telepathically, responding to each other's wordless communications with ease. Now that his needs go beyond sleep, cuddles and food, it gets harder and harder to determine what he wants me to do.
Which is why I began introducing sign language to him. I tried this technique with my daughter, but she was always too busy to use it. However, my son is intent on communicating with me. He tries to hard to engage in conversation and gets so frustrated when we don't understand what he needs. We are working on the signs for "milk," "more," "finished," and a few other words, just so we can get through to each other.
When I started, I didn't really expect it to work. However, I gave it the old college try and signed "milk" every time we settled down to nurse.
One morning, he made the sign while we were nursing. I smiled and encouraged him, "That's right! Milk! Smart baby!" Gradually he began to use the sign, though not to ask for milk, simply as we were nursing.
Then one morning, as I slept peacefully in bed, he patted me on the shoulder. When I opened my eyes to take in his smiling face, he grinned, said "Mep," and made the sign for milk. Very slowly and deliberately.
I responded with, "You want some milk?"
He clapped his hands, and once again made the sign for milk and said, "Mep." He was obviously delighted that he could communicate so clearly with me.
We celebrated his newfound communication skills with a good long nurse, interrupted by many "Mep"s and hand signs. He has asked for milk repeatedly since, always using the hand sign and the word. He will pause mid-nurse to sit up and say it again, just because he can. He is always very proud to be able to ask for his milk. The look that comes over his face when he asks is amazing. He clearly feels very grown up.
We are moving on to "more" and "finished." Then I am going to break out my sign language book from college and get down to the serious business of communication. I believe we are going to overcome many frustrations with this fresh method of talking to each other.