In celebration of Attachment Parenting International's 20th Anniversary, the four-part "API-Inspired Leadership" series honors the unique paths that inspired parents to pursue API Leadership. This series will run on Fridays. Here is the first part of the series: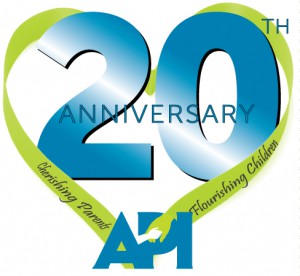 API's Leadership program is an opportunity for passionate parents, like Lauren Osborne of Huntsville-Madison, Alabama, USA, to "pay it forward" by providing attachment-minded education and support to families in their local communities. Lauren is serving as Attachment Parenting International's Communications Team Coordinator and volunteers with API of Huntsville-Madison. API is grateful to all of our API Leaders working on the "front lines" the Attachment Parenting movement, as well as the API Leader Applicants working to join them, including Lauren.
RITA: Thank you, Lauren, for your time. Let's start by learning how you discovered Attachment Parenting (AP).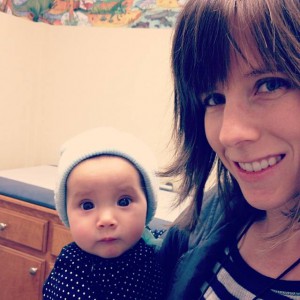 LAUREN: AP actually just happened to us.
We had never heard of AP before having our first child. Our doula gave us a copy of Attached at the Heart [by API cofounders Lysa Parker and Barbara Nicholson] as part of our gift basket. A few days after bringing our son home, my husband began reading it and said he thought I'd enjoy it.
It just made so much sense! We began cosleeping after coming home from the hospital, because we felt more comfortable having our baby near us and it made breastfeeding—and getting sleep—easier. As we read the book, we realized so much of what we felt was biologically normal. It was wonderful.
RITA: I'm glad that Attached at the Heart was validating for you and your husband. For all parents, some aspects of AP come easier than others. What have you found to be challenging about AP?
LAUREN: With what we faced with family when they heard we let the baby sleep in our room and breastfeeding past six months. People make comments, but we learned quickly to just let it go because our babies are happy and doing well and we're confident in our parenting.
RITA: So how did you come to Attachment Parenting International (API)?
LAUREN: Lysa Parker spoke at one of our new moms' groups, and I was instantly interested in learning about this organization.
RITA: And what inspired you to become an API Leader?
LAUREN: I just felt like giving back, in a sense. I am so glad I discovered AP and API with my first baby, and feel like I need to do my best at informing and helping other parents and caregivers. I'm passionate in things I truly believe in.
RITA: You are currently going through the API Leader Applicant process. How have you found it so far?
LAUREN: It has taken me too long. I've been through a lot the past two years: husband lost his job, we moved, and then I got pregnant and had a newborn. Otherwise, it's great. You really do have to read and study and truly know what AP is and how to help others.
RITA: Thank you, Lauren, for your insights. As you have found, true to API's Eighth Principle of Parenting—Strive for Personal and Family Balance—API allows plenty of flexibility for busy parents going through the API Leader Applicant process. Is there anything else you'd like to share?
LAUREN: I've been helping a mother with her two year old. The mother is just now learning about positive discipline and wanting to implement new tools in responding to her child. Thankfully she's seeing her daughter in a better light and seeing where the daughter is responding positively.
I enjoy spreading the good news of API! I like helping others see a different way other than what their family and friends may be pushing on them. I really just want the best for children and families. I feel like API is just a wonderful resource and help for families.