By Sarah Dubé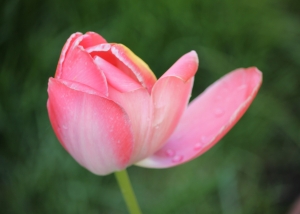 I suppose when I think about it I have always had a fairly healthy level of confidence even if it was a more superficial sense. I had your basic "Yeah sure…I'm okay" level of appreciation for myself and for my body and never thought I was any less or more than average. In a way, it was good because I was happy with myself but the problem was that I never strived, in anything, to be more than average. I didn't have the type of confidence that drives a person to accomplish more.
I didn't, that is, until I became a Mother.
From the first moments I found out I was expecting, something inside me began to change. I looked at my changing body in a different way, realizing that what my body was doing was a true miracle. I gained a newfound amazement in myself and in my body, and this feeling climaxed in the moments of my son's first breaths. I looked over at him, a brand new life where there wasn't one before and it was there because of me. All of the possibilities and potential of that life kind of flashed before my eyes and it made me feel like God.
Life as a Mother was a whole new ball game. I was responsible for this whole other person and suddenly being average didn't seem like good enough anymore. I navigated through the first year doing my best but always knowing that I should be striving to do better for my son and future children. I went through tremendous personal growth during my son's first year. I learned so much about myself and about life, and came out of that first year with valuable life lessons. My confidence was still growing.
At the end of that first year, I learned I was expecting a second baby. The thought of two babies under 2 was mind blowing. With mixed feelings of a confidence and doubt, I prepared for the arrival of a second precious life to come into this world.
Now, my first birthing experience was actually quite traumatic. It was more like a nine-day-long nightmare. This experience left me slightly terrified but also slightly determined to take a little more control, which is something I didn't have the confidence to do before. My second birth ended up being a much more enjoyable experience for me, although I let my fear take control and agreed to be induced and eventually have an epidural. I did insist on rooming-in with my daughter even though the nurses suggested on several occasions that I send her to the nursery so I can get some sleep. I also insisted on going home early the next day even, though my doctor suggested I stay in the hospital one more night to make sure breastfeeding was well established. The instincts within me were becoming a little more defined.
The real change within me happened when I looked down at my 1-month-old nursling, all chubby and thriving, and realized that it was my body and only my body that sustained this precious life. My body did just as it was supposed to and produced the milk to nourish my baby–no bottles, no formula, just me. At that moment, I felt a wave of realization come over me: I was extraordinary.
In July of 2010, I embarked on yet another womanly experience: natural childbirth. More confident than ever and armed with more information than I could possibly retain, I began to plan my perfect birth. A lovely, serene home water birth would welcome my third baby into the world. With all that I had learned, how could I walk away from this experience?
All the preparation in the world, though, could not have prepared me for the deeply spiritual and life-changing event. I felt as if I had been let in on a secret kept by all mothers before me since the beginning of time: that I am powerful, primal, connected and creative. That's heavy! It connects me to them, and now I have that same wisdom to pass along to the next generation of mothers to follow.
The experiences of Womanhood and Motherhood are incredibly powerful, and for some of us, they are the defining moments of our life, as without them we wouldn't be the fierce women we are today. I believe with all my heart that, for me, this is true. The place of deep understanding and appreciation for myself that I have attained through experiencing motherhood could not have been reached any other way, and I am forever grateful to my children for giving me those experiences.
Sarah Dubé, 30, is a stay-at-home mother to 3 children: sons Hayden and Oliver (who I was pregnant with when the author wrote this), and daughter Lily. Sarah had an amazing home water birth with Oliver, but that's a whole other story. Sarah and her family live in a small Northern Ontario town called Bruce Mines, which is just a blink along the Trans-Canada highway.  The kids just love it here as they get a lot of freedom and fresh air.  Sarah spends most of her time doing Mommy things, and her husband is a trucker. Sarah's hobbies include photography, writing and star gazing.