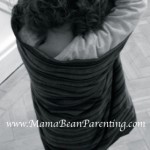 As I carefully held you, my little parcel, I remember wishing the cloth away, wishing that there was nothing between us. You see, we had been linked your whole life. I had felt every hiccup and every stretch.
As soon as I had the strength to sit up, I threaded you gently in between the lines attached to my IV sites and pressed you against my chest. But the clean crisp cloth felt like thick cold walls between us.
As the weeks went on, I wrapped you in cloths of many different colours and custom ties. You were fashionable, cute and cuddly. You were pink, blue and green. Yet amid the colours and patterns, I saw only your eyes, the soft sweep of your brow and the curl of first smiles.
Then we found stretchy cloth and it seemed never-ending. It took a hundred times of wrapping and unwrapping, tightening and loosening, before one day, I caught a glimpse of us in the mirror and realised that I hadn't even noticed completing our cloth origami. And that is where you stayed. Snuggled into me and listening to my pulse, just as you had from your very first heartbeat.
In time, I could wrap you against me with my eyes closed…with both of our eyes closed.
We would face the winter like this, snuggled together, cosy and warm.
We would breeze through outings, walks and errands in exactly this position.  You, me and our cloth.
As you grew, the stretch seemed to shrink and new cotton was bought. This cloth was bright and strong…more supportive for a sleepy head to rest in. This was the first cloth that you asked for, that you spoke about and that you wrapped around your teddies.
What was once a barrier, cold and unknown, has become a link between us. It is handlebars for our journey, a shawl for warmth. It is easy. It is fun. It joins us as one, even though we are now separate, little one.
When you were born, they wrapped you in cloth, but you'll be wrapped in my love forever.