This AP Month Blog Event post was submitted by reader Chwynyn Vaughan, who blogs at Mama Is Inspired.
At all times, there is a work of glue art on the go atop my kitchen table. Since my son's other first language is French, my husband finds it amusing that glue art is what my son and I have come to call collage. However, since my son has not created a hierarchy for the colorful scraps of paper images and the glue used to hold them down, this name is entirely à propos. While most adults would be satisfied to employ glue only for the purpose of adhering cut paper pieces to a backdrop, my son makes use of his glorious glue to add another dimension to his work.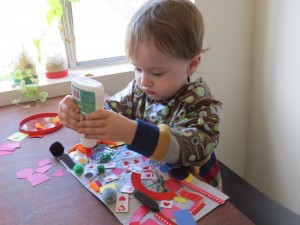 I was truly startled the first time I watched my son handle the glue in this fashion. It seemed like so much work. For a two-year-old, squeezing with both hands, it takes all the strength his little body can muster to get a good stream of glue going. He also tends to forget that gravity is at play. Sometimes he gets a little frustrated. In spite of this, he never gives up.
Eventually, he manages to spread the glue around like paint, thoughtfully laying down drips, spots and trails. He is young! Of course he makes use of glue in this manner! He still possesses the artistic freedom of a child who has not yet been told that pictures are more important than white, drippy goo.
I was also surprised by how thoughtfully my son considers just where each image and extra pour of glue should go. I am not sure why this surprised me so much. It is a work of art, and he does not imagine that he is just slapping disposed paper on cardboard. Of course he cares about his project!
My young son's passion extends beyond the white glue and many-colored images. I never imagined that I would allow my son to use scissors all by himself at the tender age of two. After a couple of times observing me cut out his collage pictures, my son worked up a desire to wield the scissors on his own. I didn't consciously set out to grant him his wish, but on a whim one day, I bought a pair of children's scissors that beckoned to me from a store shelf of art supplies.
When we arrived home, my son was ecstatic to find out that I had actually bought these scissors. I do not think he expected to be using scissors any more than I did. These scissors did not disappoint. My son is in love with cutting. In fact, cut and couper are the only words my son regularly uses to express a single concept, in both of his languages.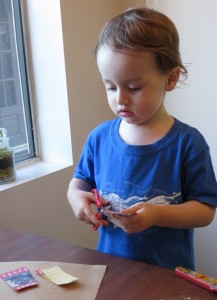 Now my son is able to manage every step of glue art or collage all on his own. He sees his father's own collage work and notices there is not much of a difference between the work the two of them produce. No wonder collage is my son's favorite work to make in his kitchen-studio.
Collage is also a great way to reuse and repurpose cast away items in our home. Mostly for the worse, we live in an age of excess print material. I am trying to make the better of this wasteful trend. Collage is a fun, creative place to start. I look at mail-order catalogs, nonprofit materials and museum membership drives with new eyes. The same goes for food boxes and packaging left from new toys. We take apart old crafts that my son has made at library story-time or parent-and-me classes and salvage all the materials we think we would like to use again. We have a bag full of items to be cut up and another sac of images and craft supplies that are ready to glue.
Sifting through and cutting up images gives me something to do so that I am actively involved in my son's project, while at the same time letting my son create on his own; I am present the way he wants me to be, but at the same time, he has all the autonomy he seeks. This works out very well for both of us. Glue art has worked its way into our hearts.