Written by Shoshana Hayman, director of Life Center, the Center for Attachment Parenting in Israel, www.lifecenter.org.il
We are often not aware of our deepest attachments until they are no longer with us. But sometimes we get the chance to have a glimpse of the profound nature of our attachment to those who matter most to us, and us to them.
Recently my older sister was told by her doctor that she needed immediate open heart surgery, and arrangements were made quickly for her hospitalization. In her usual optimistic and humorous spirit, my sister put on her lipstick, and with her dimpled smile waved to the family members who accompanied her down the hospital corridor, wishing them a long, happy life, while her youngest daughter filmed her with her digital camera.
I saw this part of my sister's hospitalization only afterwards on the camera, for I was busy getting lost trying to find my way to the hospital. I could feel my frustration growing stronger as I hopelessly circled the same traffic circle trying to find the right exit. I was living the metaphor that explains where our frustration goes once it enters our system, and I knew that mine would finally find its way out in tears. I finally pulled my car over to the side of the road so I could collect myself and have a good cry.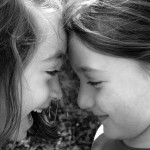 Of course it wasn't the getting lost that made me cry, but it was the trigger I needed to cry over the fear of losing my sister. She is the sister who took care of me. When I was little, she made faces with the food on my plate so I'd eat it; she gave me rides on the handlebars of her bicycle; she helped me with my homework; she taught me the answers to trivia questions, and we made tape recordings of our Q-and-A sessions together; she made up the best stories and created little dolls for me out of scraps of material to illustrate the stories. She was my shield, my protector. She kept me out of harm's way.
Because she cared for me and gave me an open invitation to exist in her presence, I kept my tears and soft heart. My mind was flooded with the memories of our lives together, and I wanted to have her forever. The thought of anything else was too much to bear.
I sat through the surgery and prayed, and finally, seven hours later, I was told I could go to the recovery room. Her eyes were closed, and she was attached to tubes and wires, surrounded by the modern miracle of medical machinery for which perhaps for the first time I felt truly grateful. Her lipstick was still on, and I found a way to hold her hand without disturbing the equipment that was helping her body stabilize.
Thank G-d, she began to recover quickly and was out of pain. And now I have been given another gift–the hours we can spend together as she rests and recovers. But the hands on the clock relentlessly move ahead. I want to stay longer, and I have to leave.
We cling to each other with our hearts when I move to go. We are so aware of our being so deeply rooted in each other and that we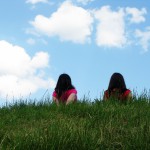 can't stop time from the inevitable futility of the physical world. We have but to cherish each day we have with each other; express our love and caring; find a way to forgive both the small annoyances and the big hurts; give our time and our hearts generously; remember what is truly important. It is then that we remain at peace with our relationships for eternity.