This post was written by Stephanie Petters, coordinator of the API Reads program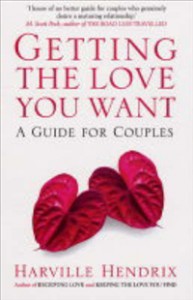 An interesting discussion is unfolding at API Reads where we're discussing Getting the Love You Want by Harville Hendrix, PhD:
"As I began reading Chapter 2 on childhood wounds, I appreciated how the chapter started on page 15 with, 'And no parents, no matter how devoted, are able to respond perfectly to all of these changing needs.'

This truth is a relief and reminder that all we simply can do is our best and tomorrow make our best better. Thankfully the family unit is perfectly matched for us to grow to our highest good (even when it doesn't feel like it sometimes).

When I kept reading each section in the chapter, I found myself highlighting and making notes in the margin with what was coming up for me. There was a part of me that wanted to cry."
API Reads is Attachment Parenting International's online book club on Goodreads, but it's more than club for people who love to read books—it's a place to share concerns and ideas to strengthen the connection to our children and families as well as share your own personal experience.
For example, in the first chapter of Getting the Love You Want, the author explores mate selection. These are two of the responses to the question, "Which type of relationship were you? An intense, 'at-first-glance' or one that took more time?" Here are a few of the responses:
"We met in college. I wouldn't even say it started as a friendship as much as fate that just kept at us. We kept running into each other at student government meetings, the cafeteria, and then friends intervened to keep bringing us together, and eventually—although really, probably only a few weeks—we were 'dating,' spending more and more time together. After that, we had three years of school to date and get to know each other. We were engaged two years after we met, and we married right after graduation, three years and a few months after our first meeting. I'd say we were kind of in the middle of his types: It wasn't 'love at first sight,' but it wasn't tepid and prolonged either. We are going on 10 years and three kids, and it's been amazing." – P.

"We had a level-headed friendship. This chapter made it so clear why my husband and I are a perfect fit! I'm the isolator, and he is the fuser." – S.
What else have we been discussing? We're just getting started, but we've also touched on how mate selection is also about restoring the feeling of our wholeness, the essence of love and more.
Here is another recent post from a reader who was inspired to share an excerpt from the book with the API Reads community:
"On page xxviii: 'If Helen and I were to take all the insights we've gained about love relationships in the past thirty years and reduce them to their essence, we would summarize them in the following five sentences:

Accept the reality that your partner is not you.
Be an advocate for your partner's separate reality and potential.
Make your relationship a sacred space by removing all the negativity.
Always honor your partner's boundaries.
Practice the Imago Dialogue until it becomes second nature and you can interact spontaneously once again.

Eventually, you will not have to 'work' on your relationship anymore. The changes will become stable. You will have rewired your brain so that your new way of relating is far more comfortable to you than your old way. You will begin living in a different reality—the reality of sustained connection.'

I'm writing these five sentences on a large sticky note and placing it on my mirror. I'd like to start the day everyday with the intention to move to greater sustained connection. Anyone else want to join me?"
Everyone is welcome to join the discussion—or simply to follow the conversation—at API Reads on GoodReads! We'll be discussing Getting the Love You Want this September and October.
Our next book for discussion is Raising an Emotionally Intelligent Child: The Heart of Parenting by John Gottman, PhD, starting November 1.