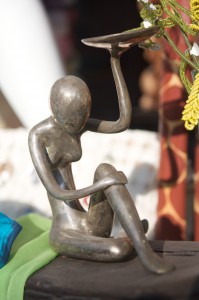 As any parent knows, the size of a person's emotions has nothing to do with the size of his body.
Babies and toddlers stretch us emotionally by confronting us with feelings that we've been taught to dismiss, ignore, or stuff down to get by in Western societies. After all, it wouldn't be cool for an adult to throw a temper tantrum in a mall or at the supermarket.
To avoid the squashing of emotion, we parents are taught to validate their children's emotions – giving the feelings names, and letting the kid know it's okay to feel the way he feels. This is a powerful tool for helping a child navigate the world, and knowing he's got someone in his corner.
The tool we'll explore today takes that validation a step further, and it doesn't necessarily involve words. It's also incredibly healing to the adult who can pull it off. And I speak from experience, though I've only pulled it off once.
By way of introduction, we'll start with a metaphor. A great Kabbalistic teacher once illustrated the principle of receptivity (which is what Kabbalah means, by the way) by handing an apple to his disciple. The disciple reached out to take the apple. Again and again the teacher reached out with the apple, and pulled it away when the disciple went to take it. Frustrated, the disciple looked to his peers. "Don't take it," they advised. "Accept it." The disciple breathed out his confusion and curved his palm up into a bowl, and his teacher dropped the apple into his outstretched hand.
When babies have big emotions, it can be trying for their parents, who are often emotionally invested in their child's happiness. We come at them with anxiety, frustration, the agenda of solving their problem, and sometimes even anger at the disruption.
To become receptive, we must hollow our feelings out like the outstretched hand of a student. That doesn't mean ignoring or banning our feelings and perspectives, but accepting them, then letting them be. We approach our child with the intention to accept his feelings – to make a sacred space for our child and all the feelings inside him, and to hold them lovingly inside ourselves.
We create that internal space, a space of non-judgement, non-striving – a vacuum really. Not only are we accepting everything that our child has to give us, we are embracing it. Through that act of unconditional love and support, we are able to connect on a profound level – not only to our child, but to ourselves and to that something greater.
There are few paths that offer the depth of testing, learning and personal growth than parenting. It can either be a struggle, or it can be a joy (and for most of us, it's both). By reaching in deeply and letting our child know he's okay – not only okay, but that every part of him is completely, deeply lovable – we channel more love into the world, and into ourselves. Parenting can heal our wounds, and it can help us to heal this deeply troubled world, one moment at a time.