When I was in college, way back in the day, I stumbled across a teacher who was getting into this 'new style' of parenting. I was the only parent in the entire class besides the teacher, even so, by the end of her second class, the majority of the students were like me and totally interested in this 'natural parenting'.  Our first big assignment was to do a short study of a parent and then make a comparison of their parenting to natural parenting. I chose one of my older sisters as my subject, the fact that she lived around the corner and that my niece would play with my 5-month-old for two hours had no bearing on my choice…really.
Donna was in her late 20s, married and had two children, a daughter and a son, a little over five years apart. Her daughter was Little Miss Happy Pants, always eager to help (and play with babies) and her son was an impish explorer (read: cute troublemaker-he once walked past mama on the phone, smiling as he pulled a loaded-with-dark-paint paintbrush along the newly white wall). She took care of several kids during the day for extra money. We didn't have the best example of parenting growing up, something that greatly affected all of us, but especially Donna. Our two older sisters were good moms, but Donna just had this connection to kids. This soft-spoken empathy that we all seemed to lack. Where we would nod in a rushed agreement and then move along with a child showing us a prized possession, Donna would get down to their level, ask questions and really listen to their response. In her eyes, children really were people, too.
I wish I could remember all of my observations from that day…find the paper I wrote. Thankfully, I can easily recall most of my conclusions. In class, we had watched segments of an ABC show, 'The Home Show', with a doctor who was talking about this little practiced parenting style, Dr. Jay Gordon. We read articles from a 'extreme' parenting magazine called 'Mothering' and listened to our teacher talk about parenting in other parts of the world. In the couple of weeks we had to work on our papers, I started to realize that this stuff wasn't so foreign to me after all. I saw it in practice nearly everyday, in my sister. I slowly realized that it was pretty obvious what I had personally lived, with my parents, wasn't 'right'. It didn't feel right. It didn't feel like home should feel. I wanted more for my son and my future kids. I evolved, over time and certainly never to what I thought was ideal. But messy house be dammed, all eight kids knew to their very soul that they could crawl up on mama, anytime, anywhere and be home.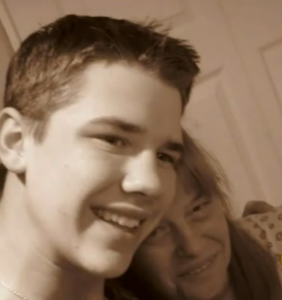 Years later, Donna's life changed drastically. She was divorced, had hard times and luckily, ended up marrying her true love. They tried so hard for a baby of their own. She desperately wanted a child with her husband, so much so that she asked me if I would be a surrogate. Soon after asking, she got pregnant with her miracle baby and she couldn't have been happier.  Oh, how she loved that baby boy!  They went through some tragic times, the demons of her childhood just wouldn't leave her. She had rough times with her older kids and just her life in general. But that little boy…I would hear family members say things…"Can you believe he still crawls in bed with her and sleeps? He's 10-years-old!" I would just smile and nod cause my own little ones and teens would 'still' crawl into bed with me!
Our parents died, we all moved apart and Donna made her own world with her husband and son, nearly isolating herself from everyone. When we came together for her funeral a few weeks ago, everyone was stunned at the quiet strength of her 'baby boy', 17-year-old Seann. He lost his best friend, the person he could confide in, trust and crawl into bed with if things got tough…for him or her. I sat on the ground outside of Burger King with him at 2:00 AM the night before the service and told him the story of why I was 'just like' his mom. How I didn't realize just how important it was to pick up a crying baby, to kneel down and listen, to nurture and respect and to let the people you love more than anything in the world crawl into bed with you. We have all cried a lot since then, about a woman who gave so much of herself while suffering so badly. I was blessed to have thanked her many times, the last time just minutes before we had to let her go. Blessed to tell her that people do learn from your example. In our case, solely because of her, eight lives attached to a mom who almost didn't know better. Thank you, Donna.