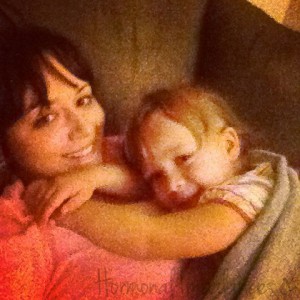 As a mother who loved her baby wearing and co sleeping days with her daughter, it's been tough at times to see my little girl grow up and still want to have the same closeness with her. In a different way.
I was fortunate enough to be able to stay at home with Bella, and in doing so the past 3 years have been there for every milestone she had. As she grew closer to the years of playdates and preschool, I found myself wondering how our attachment parenting with her would play out? Before I was a mom, I could never understand the thought of wanting to be home with your children all day. I taught school and was convinced that my children would go to school so that I was able to have a break and get things done.
I've realized I no longer have these feelings. Apparently having your own children does make a difference in things you were so adamant about – like no TV. lol
The past year has been a hard one for us. We lost our twin boys in May at 20 weeks into my (very rough) pregnancy. It affected my daughter a great deal, and after the shock and grief lessened for me, I began to try to find a way to bond with her again. Something I hadn't been able to do much with being so sick, tired, and then sad for months on end.
We have Bella in play therapy, which helps us learn how to respond to her feelings when she's just learning about them. I make that morning special, we head to Starbucks, then after stop for lunch before we go home. This is a weekly routine and I'm finding myself loving her companionship.
Instead of preschool, or public school later, my husband and I agreed to homeschool Bella. I couldn't see myself dropping her off while I'm at home all day alone – even working I still have a lot of down time. I used to teach and I missed doing that, and it fits well with our military life in moving so often.
We no longer co-sleep (which she didn't like much anyway) but she climbs into bed with us each morning. We spend a lot of time together as a family; weekend trips and time at home. We have no family near us so the majority of our time is spent finding our own routine and traditions, something we both enjoy.
So now I see how our parenting style carries into these next years. Of course everyone does things differently and parenting works around life and beliefs, but for us this seems to work well right now. How very special it is that the closeness I loved so much has turned into a wonderful part of her as a little person now.